THE IMPACT OF COVID-19 IN MALAYSIA
Ever since covid-19 pandemic begins, there are numerous reports about pets being abandoned, which causes surge of number of stray animals. It is sad to see the strays having challenge everyday for food & shelter, suffering diseases due to the poor living environment.
With the mission of creating a better world for pets, EUKAUBA Malaysia decided to launch an adoption program to help rehome the homeless dogs, alleviating the overcrowding issue of shelters. EUKANUBA Malaysia will offer a free adoption starter kit consists of the following to help the adopter onboard the new pets home.
-One 50% discount voucher up to RM 50.
-One 64Oz food bowl
-One food measuring cup
-One EUKANUBA blanket
-One EUKANUBA dog leash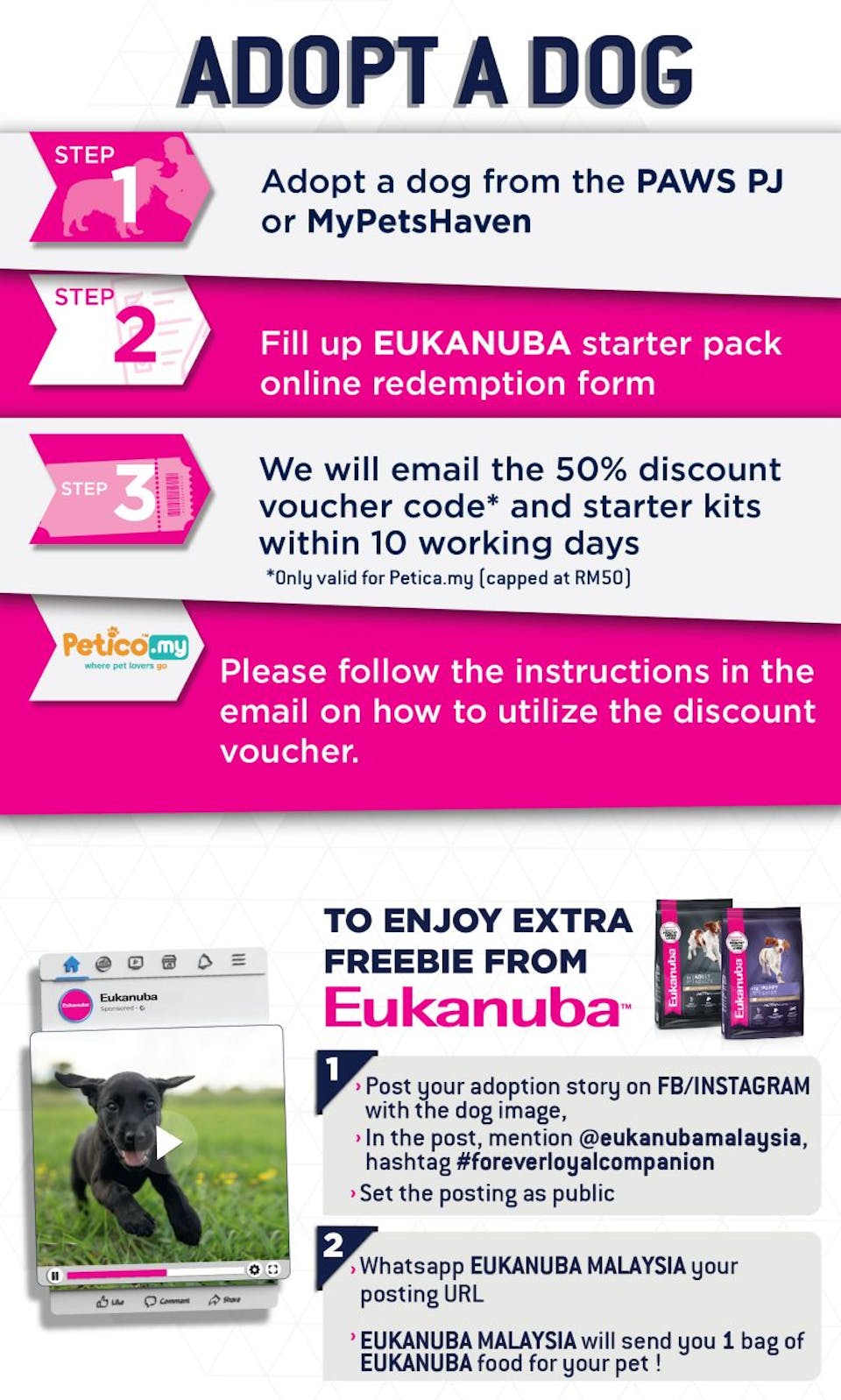 HOW THIS ADOPTION PROGRAM WORKS
- Adopt a dog from our Partnered Shelter

- Fill up EUKANUBA MY Starter Kit redemption form

- EUKANUBA MY receives & Verify the adoption

- EUKANUBA MY to deliver the starter kit within 10 working days

- Dog Adopter is to use the given voucher via email at our Partnered e-pet shop (Petico.my)

You will stand a chance to get one free bag of EUKANUBA food on top of the voucher, by doing the following :

1. Post your adoption story on Facebook / Instagram.
2. Mention @eukanubamalaysia
3. Hashtag #foreverloyalcompanion
4. Set your posting as public
5. Whatsapp us your posting URL at 0129780366
TERMS & CONDITIONs
- Each dog adopted from our partnered shelter is ELIGIBLE to redeem one (1) EUKANUBA Dog Adoption Starter Kit, while stocks last.
- Each Dog Adopter is entitled up to three (3) EUKANUBA Dog Adoption Starter Kits.
- EUKANUBA Malaysia reserves the right to end the program earlier, without any prior notice.
- EUKANUBA Dog Adoption Starter Kit is strictly NOT FORSALE/RESALE.
- EUKANUBA Malaysia is at your disposal for any inquiries on the starter kit and EUKANUBA dog food.
- You can redeem the starter kit by filing up the form, which will be provided by our partnered shelter upon your successful adoption