The Importance of Puppy School for Young Puppies 
You have arrived home with your dream puppy, filling your home with laughter, cuddles and toys scattered across the floor.

What's next?

After arriving home with my very first puppy Anzac, a beautiful and boisterous 10 week old Border Collie, one of the first things I did was locate my local puppy school. Just like any child, these early months are critical for setting positive habits in motion and nurturing their growth, and connection with you, their parent(s).

Puppy school is the perfect place to begin safe socialisation for your puppy, while also accessing education on how to integrate your puppy into your lifestyle. This includes basic foundations for training, grooming, nutrition, and most importantly, for you as a parent to learn how to teach and guide your puppy through life.

While I had always had a family dog, Anzac was my first dog as a solo adult, and I knew how critical it was for me to learn how to effectively care for and train him, to provide him with a safe and healthy life.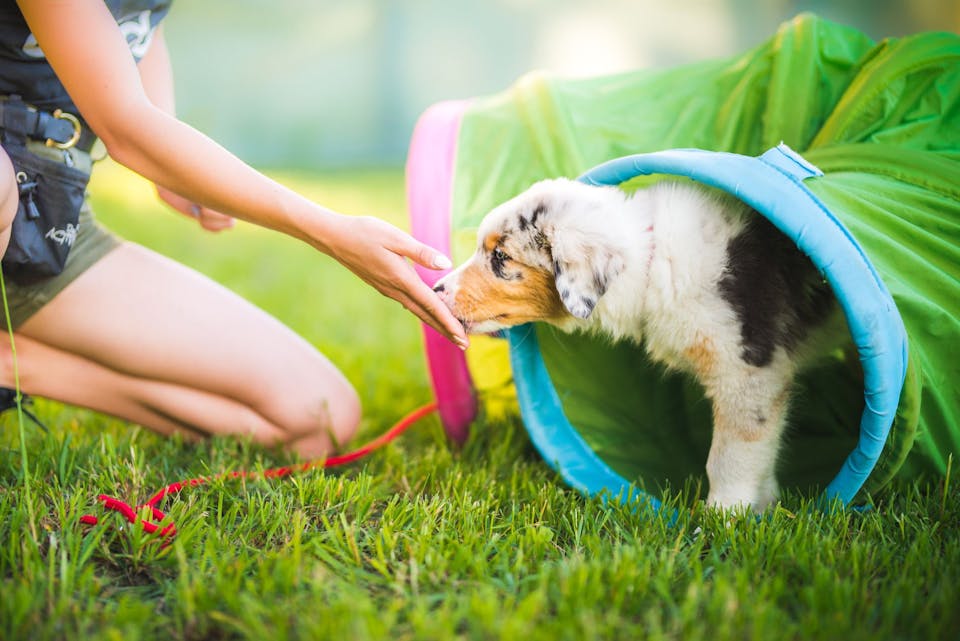 What is Puppy Pre-School?
Puppy Pre-School is typically a 4–5-week program made up of a 1hr class per week, designed to provide both the owner and puppy with the foundations they need for effective obedience training and socialisation.


When can my puppy attend Puppy School?
Puppy School is designed for puppies aged between 8-16 weeks old, provided they're healthy and sufficiently vaccinated.

It is advised to have your puppy's health checked before attending pre-school, as well as ensure you're up to date with all of their worming and flea medication. At this stage of their life a puppy's immune system is still developing and will need all the added help it can get.

If your dog is past the 16 week puppy pre-school, we would advise to check in with your local vet training centre to see whether classes are available for juniors post 16 weeks.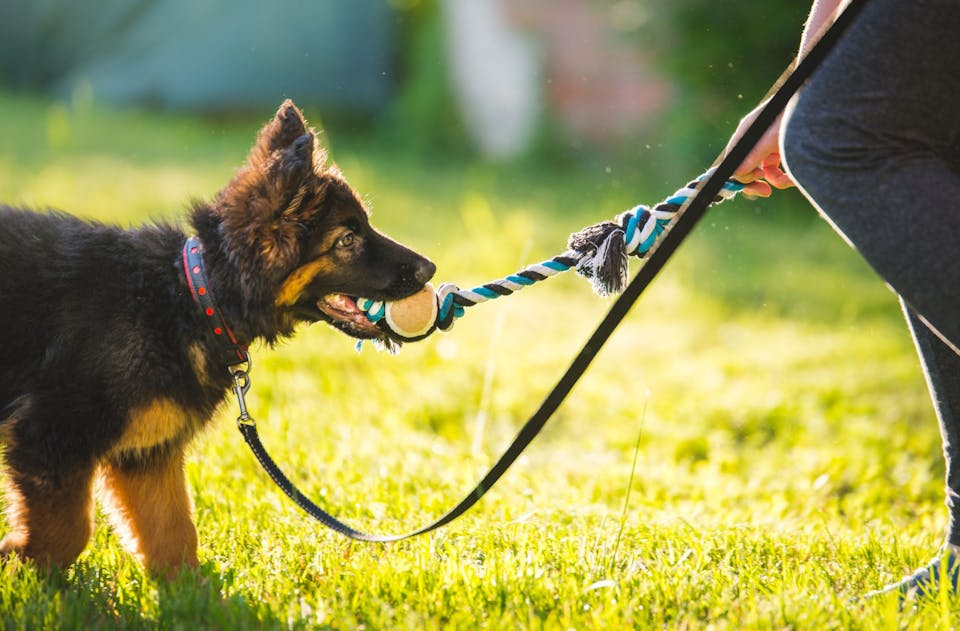 What will my puppy learn at Preschool?
Your puppy's learning will vary depending on the pre-school they attend, as no one course is the same, though it's likely to follow a similar structure to the below:
How to socialise with other dogs
Providing your puppy with a positive and safe social experience during their early months is key for setting the tone for future interactions with both dogs and humans. Puppy Pre-School is also a safe opportunity to
socialise your puppy
pre full vaccination.
Puppies have what is called a critical socialisation period during the first three months of their life - they're extremely impressionable during this time and it's vital they start learning socialisation skills right away. Your puppy's experiences during this learning and development period will help to shape their behaviour well into adulthood.
How to integrate your puppy into your lifestyle
Integrating your new puppy into your lifestyle can be daunting, especially if you have young children in the home. Puppy School will provide you with the tools and guidance you need to educate your family on how to interact with your puppy safely and enjoyably and handle them throughout daily tasks like feeding and walk time.
Obedience Training
Puppy Pre-School is the perfect place to begin setting the foundation for ongoing obedience training,
learning basic commands
such as sit, stay, and drop.
Toilet Training
A frustrating hurdle for many,
toilet training your puppy
is a key pillar of Puppy Pre-School, providing you with the tools you need to teach your puppy correct toilet etiquette, keeping your home clean and mistake free.
Walking on a leash
While a pulling puppy may seem cute at first, a grown dog pulling at the leash is never fun. That is why walking on leash is one of the key lessons at Puppy Pre-School, providing you with tools and hands on assistance on how to
teach your puppy to walk calmly and safely on leash
, regardless of the situation.
Puppy Handling
Throughout your dog's life, they will require countless visits to the vets, check ups and grooming by both yourself and professionals. Therefore, it is important to begin getting your puppy used to this form of handling, including touching their ears, mouth, and paws, to ensure they can be cared for and avoid aggression towards carers.
Puppy School is the perfect place for both you and your puppy to learn, grow and set positive foundations in place for a happy and healthy future.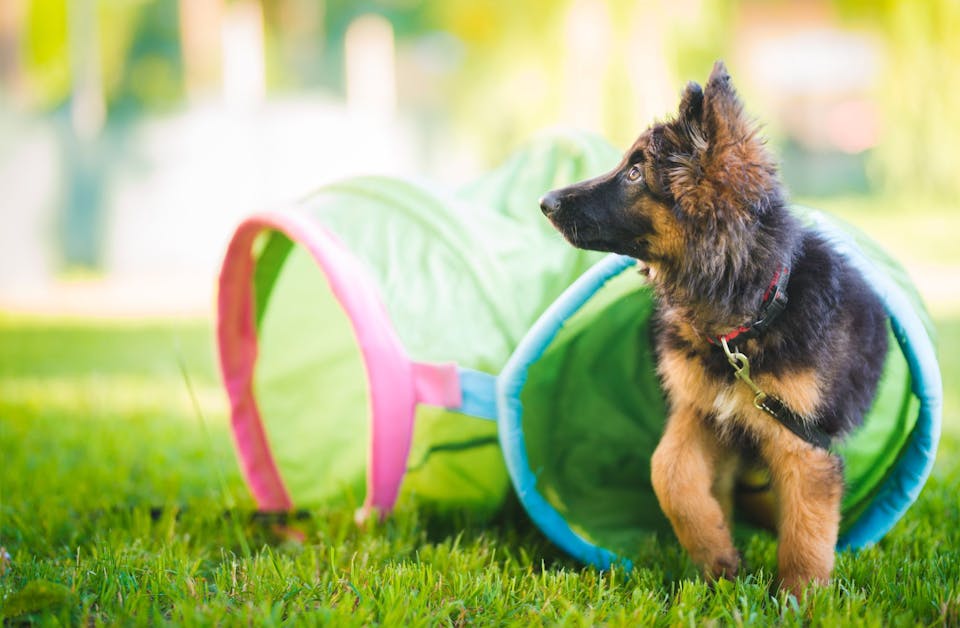 What will owners learn from Puppy Pre-School?
Puppy Pre-School is just as much for you as it is for your puppy, providing you as the owner with tools and education to help raise a happy and healthy dog.


How to keep your puppy happy & healthy
While attending Puppy School, you as the owner are provided with key tools such as integrating your puppy into your lifestyle, education on appropriate nutrition, grooming and ongoing veterinary care.


How to manage behavioural issues
Puppy Pre-School will guide you in addressing any puppy behavioural issues that may be showing during these early foundation months, allowing for a more enjoyable, safe, and happy future for both you and your dog.


How to read your puppies body language
For many owners, this will be your first dog, and learning to read and understand your puppies body language will greatly help with future obedience training, health care and your overall connection with your puppy.


How do I find a suitable puppy school?
Locating a suitable puppy school can be achieved by contacting your local veterinary clinic. In my case this was where I took Anzac for his Puppy Pre-School experience. Alternatively, you can also contact your local pet store or dog school / club.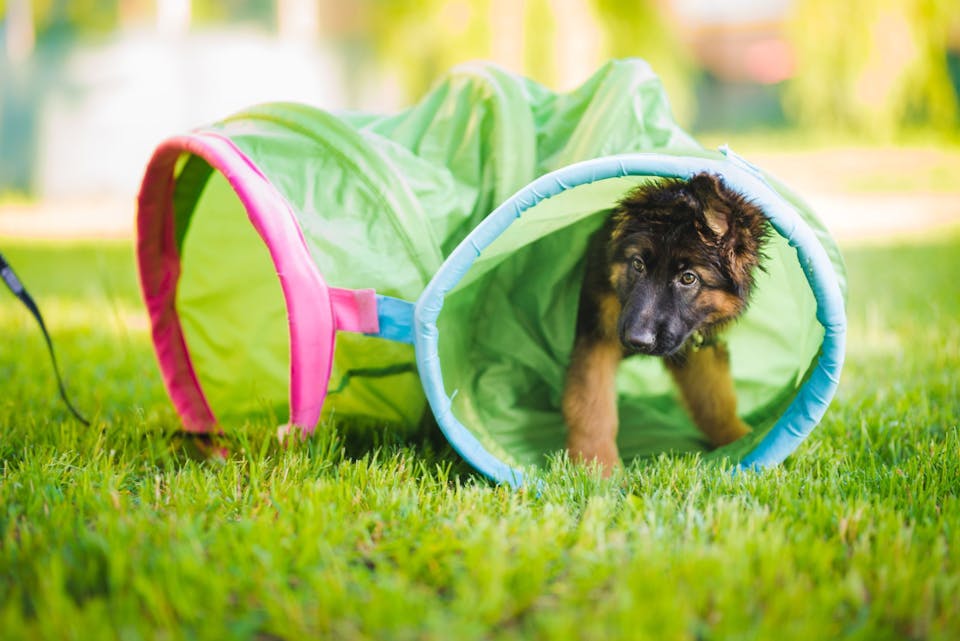 What are the advantages of Puppy School?
The purpose of Puppy School is two fold: to help owners grow a strong bond with their puppy and educate owners on everything they need to know about their puppy to help give them the best possible start to life. Of equal importance, puppy's will learn to become confident, sociable, well-behaved dogs that have a greater chance of obtaining these positive learnings in future, avoiding potential aggressive behaviour.

Puppy School gives you, and your puppy the confidence to trust in one another, to experience new environments together and gives owners the opportunity to learn basic training techniques, dog behaviour, handling and general care.


How much is Puppy School?
The cost of Puppy School will differ from place to place, though you are generally looking at between $100 & $200 for a 4–5-week program.

Puppy School is the perfect place to provide your puppy with the opportunity to socialise, learn and grow alongside you, their owner and to equip a first-time puppy parent with the tools they need to train their new furry best friend, while building communication and trust, and set in motion your puppies life skills, for a happy and healthy future.