Camping With Dogs In Tasmania: The Ultimate Guide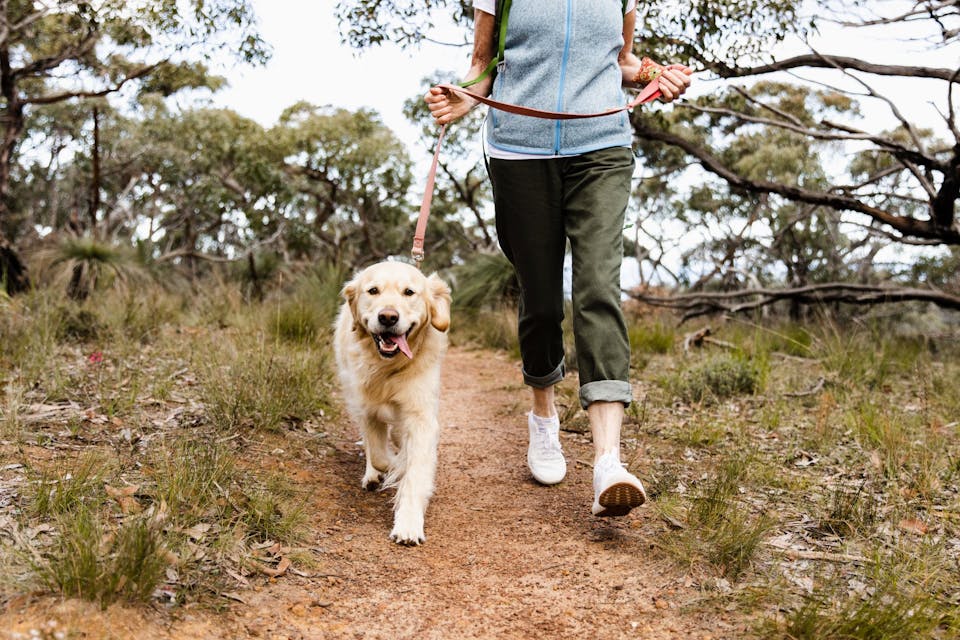 A rugged and beautiful jewel of a state, Tasmania is an ideal location for exploring nature (with your dog, of course!). But given so many gorgeous options, where to start? Fortunately, there are plenty of campsites dotted throughout Tasmania that offer you both the unforgettable chance to get back to nature in the most serene spaces imaginable.
There are many campsites in Tasmania you and your dog will both love to bits, so we've highlighted 18 of the Apple Isle's real beauties. Let's get started!
Crayfish Creek Van, Cabin Park, and Spa Treehouse
Right on the border of Rocky Cape National Park, Crayfish Creek is situated near the beautiful and historic town of Stanley in Tasmania's northwest. The park offers cabin lodging in addition to remote serviced campsites.
Best of all, this campsite is great for doggie adventures. Dogs are welcomed at this campsite – including inside the cabins, which is a big bonus on those frosty, cold Tasmanian nights! And during the day, you and your loyal companion can trot along the beautiful Edgecumb Beach, where dogs are allowed off-lead.
More Info
:
https://www.petfriendly.com.au/ndamp-cabin-park
Location
:
20049 Bass Hwy, Crayfish Creek TAS 7321
Snug Beach Cabin And Caravan Park
In southern Tasmania, Snug Beach Cabin and Caravan Park provide beachfront vacation rentals – all only 10 minutes from Kingston and 30 minutes south of Hobart. From the park, you can look right across the Channel to Bruny Island.
At the campsite itself, you'll find powered and unpowered sites; dogs are permitted on the site as long as you check with management first. (Pets aren't allowed in the cabins, though.) If you're looking for something fun (but not too strenuous!) to do with your favourite animal during the day, why not try the Snug Falls walk? It's 60–90 minutes return, and dogs are allowed on lead. After that's done, you'll both need a nice rest back at camp.
More Info
:
http://www.snugpark.com.au/
Location
:
35 Beach Rd, Snug TAS 7054
Hotel Abel Tasman Caravan Park
If you've taken the Spirit of Tasmania with your loyal companion, here's the perfect place just a couple of kilometres away. As soon as you get here, you'll be treated to stunning views of the Mersey River.
So, what's a dog to do? Well, during the daytime, you two might like to venture around Mersey Bluff to the lighthouse. It's a beautiful coastal walk, with scenery to die for!
Just be aware when you're booking your accommodation – even though dogs are permitted, not all of the park's cabins are dog-friendly. Let management know before making your reservation, so they can prepare for your arrival.
More Info
:
http://www.snugpark.com.au/
Location
:
6 Wright St, East Devonport TAS 7310
Mole Creek Caravan Park
Situated near a number of lovely walks, the Mole Creek Caravan Park is a great escape for you and your dog.
Mole Creek Caravan Park is located next to the beautiful Sassafras Creek, where you'll find trout and even platypus (if they're feeling outgoing that day, of course). Remember, you'll have to keep your dog on the lead during your walk, as well as within the caravan park.
There are plenty of other things to do with your dog when you're at Mole Creek Caravan Park. For example, why not try strolling through the picturesque town of Mole Creek nearby? There are plenty of cafes and lovely scenery which you'll both really enjoy for a day trip.
More Info
:
https://www.molecreek.net.au/
Location
:
Union Bridge Rd, Mole Creek TAS 7304
Big 4 Ulverstone Holiday Park
At the BIG4 Ulverstone Holiday Park, you'll find a variety of lodging options in an award-winning caravan park – just 15 minutes from the Spirit of Tasmania Devonport terminal. If you and your dog head into the town of Ulverstone, they'll love the Off-lead Dog Park at Ulverstone Showgrounds. It even has separate fenced zones for large and small dogs!
Well-behaved dogs are welcome on lead in the caravan park, as long as you check with the manager first. Some of the cabins are even pet-friendly, so enquire to find out which will suit. (Just remember not to leave your dog alone in your cabin, or to let them jump up on furniture and bedding – and if they're staying with you, you're up for a $25 cleaning fee added to your room fee.) Remember to clean up after your dog, and keep them out of communal buildings.
More Info
:
https://www.big4ulverstoneholidaypark.com.au/
Location
:
57 Water St, Ulverstone TAS 7315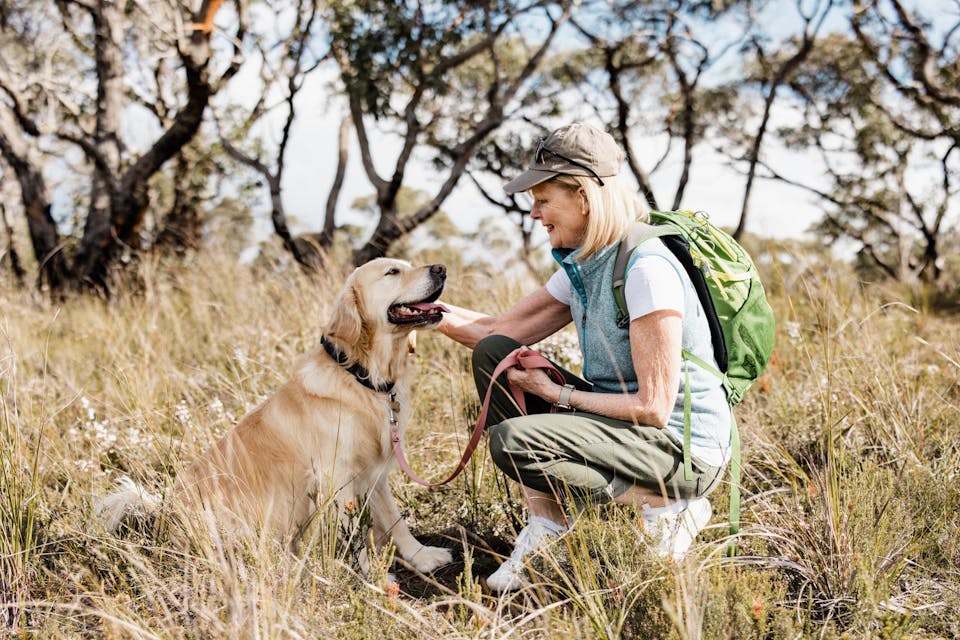 Hillcrest Tourist Park
The Hillcrest Tourist Park is located on Tasmania's fabulous East Coast, with the nearby Hillcrest Tourist Park & Mini Market providing everything you'll need for a memorable stroll together. The park offers both powered and unpowered sites, with great surf beaches and safe bay beaches nearby.
In this pet-friendly park, all dogs are to be kept on a lead. There are two pet-friendly cabins, so make sure to call and find out if they're available ahead of time. There will be plenty of other people with dogs in the caravan park, so make sure they're under control.
More Info
:
hillcresttouristpark.com.au
Location
:
10 Chimney Heights Rd, St Helens TAS 7216
Captain Cook Holiday Park
The ideal place to set up camp near Bruny Island is Captain Cook Holiday Park, located in the centre of Adventure Bay. Dogs are allowed off-lead on Adventure Bay beach, A vehicle ferry runs from Kettering, 40 minutes south of Hobart, to Bruny Island off Tasmania's southeast coast.
The campground is next to Adventure Bay Beach, with frequent migratory whale and dolphin sightings. The park's also home to some local species, such as white wallabies, and the teeming birdlife draw global visitors. Dogs (all pets) need to be supervised and kept on a short leash at all times.
You can bring your dog along for free – but are only allowed on the powered, and unpowered sites.
More Info
:
https://captaincookpark.com/
Location
:
786 Adventure Bay Rd, Adventure Bay TAS 7150
Launceston Holiday Park
10 kilometres to the north-west of Launceston, you'll find the lovely Legana campsite. There's a covered outdoor area in each of the cabins, so you'll have lots of chances to get some much-needed R&R.
But the real highlight of the campsite is the sheer amount of space for doggie adventurers. Set on eight acres of lush parkland, there's plenty of scope for your dog to run around to their heart's content. All the park's powered sites are pet-friendly too, as long as they're on a lead at all times within the campsite.
More Info
:
https://www.launcestonholidaypark.com.au/
Location
:
711 W Tamar Hwy, Legana TAS 7277
Discovery Parks Hobart
Here's the ideal accommodation for your family vacation. One of Australia's loveliest cities, Hobart is perched on the Derwent River against the mesmerising backdrop of Mount Wellington. The Huon Trail scenic drive, which passes through wineries, farms, and untamed terrain, is easily accessible from here. Dogs are allowed in campsites and selected cabins, as long as they're kept on-lead.
And if you're looking for something your dog will love, why not try the nearby Shag Bay Heritage Walk? It's a beautiful and manageable walk (2km each way), with dogs allowed off-lead if they're under effective control. It's the perfect opportunity for some bonding time with your furry friend.
More Info
:
https://www.discoveryholidayparks.com.au/
Location
:
E Derwent Hwy, Risdon Vale TAS 7016
Latrobe Mersey River Caravan Park
Located close to Devonport, this park is set in beautiful gardens near the Mersey River. You're also close to the CBD, where you'll find many opportunities for dining and other amusements.
The campsite welcomes well-behaved pets, and there's a bonus for those with doggies with an insatiable appetite for exercise – a dog park's conveniently located right across the road!
More Info
:
https://latrobemerseycaravan.com.au/
Location
:
10 River Rd, Latrobe TAS 7307
Hobart Cabins And Cottages
Hobart Cabins & Cottages is an oasis in the middle of the city, with beautiful parkland surroundings and a range of appealing cabins. Best of all, dogs are allowed to stay in all of them!
Make sure you check with the owners first before bringing your dog along. Bringing a pet will cost an additional $50 per accommodation per stay, plus a deposit of $50 per stay. Food and water bowls are also available.
More Info
:
https://www.hobartcabinscottages.com.au/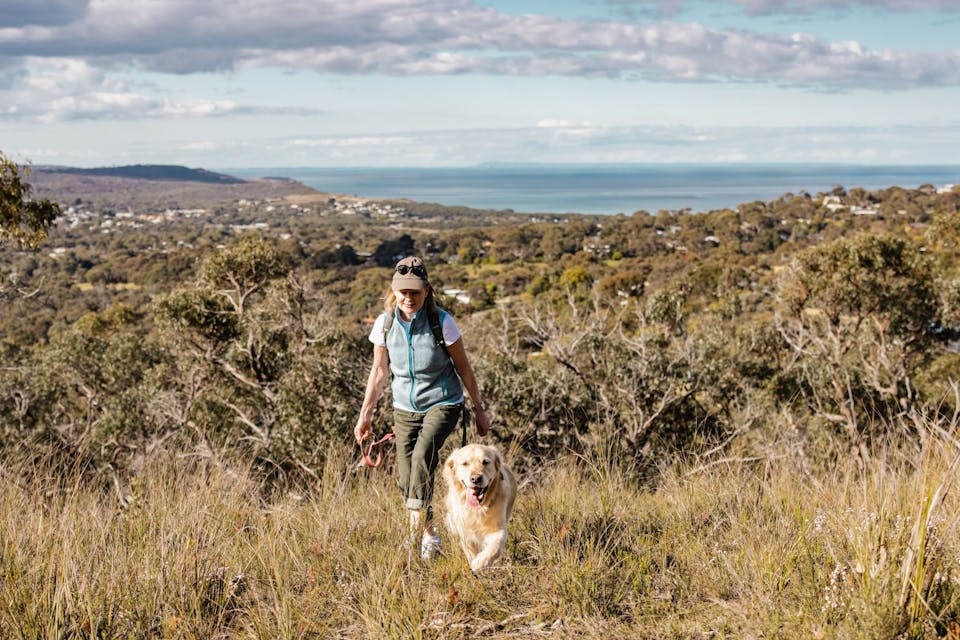 Leisure Ville Holiday Centre
Powered sites and cabins are available for rent here, where you can spend the evening relaxing in the heated pool and spa after drinking in North-West Tasmania's stunning local landscape.
Remember that even though dogs are allowed in the campsite on-lead, they're not permitted in the cabins. If you're looking for dog-friendly amusements, it's a great idea to take your pal along to nearby East Wynyard Beach, where there's a walking track for them to enjoy. Dogs are welcome off-lead on the beach from 6pm–10am.
More Info
:
https://leisureville.com.au/
Location
:
10 River Rd, Latrobe TAS 7307
Green Point Campground – Marrawah
This tiny free campground is tucked away on Tasmania's upper north-west coast, around 20 minutes north of Arthur River. Offering spectacular water views, this simple campsite does not offer electricity or running water but has level space for camping.
The campsite is dog-friendly but quite small, so make sure to keep your dog on a lead.
More Info
:
https://tasmania.com/
Location
:
Beach Rd, Marrawah TAS 7330
Burnie Ocean View Motel & Caravan Park
There are seven different types of accommodations available at Burnie Ocean View Motel and Caravan Park, offering something for every taste and budget. For some dog-playtime, try Cooee Creek Beach, where you can exercise your dog to your heart's content.
Burnie Ocean View Motel and Holiday Caravan Park allows dogs of any size for an additional fee (varying based on the size of your pet and length of stay).
More Info
:
https://tasmania.com/
Location
:
Beach Rd, Marrawah TAS 7330
Triabunna Cabin & Caravan Park
This park's the ideal starting point for your explorations, because it's located along Tasmania's gorgeous Great Eastern Drive. The park's located in the friendly village of Triabunna, with some beautiful short hikes nearby. While powered and unpowered sites in the park are pet-friendly, pets aren't allowed in cabins and on-site vehicles - so make sure you're up for some tent-based snuggles!
More Info
:
https://triabunnaaccommodation.com.au/
Location
:
4 Vicary St, Triabunna TAS 7190
Longford Riverside Caravan Park
The Longford Riverside Caravan Park is located on the banks of the lovely Macquarie River, just ten minutes from the airport and 20 minutes from Launceston.There's 50 unpowered sites and 100 powered sites (all with sewage and water), as well as deluxe caravans.
Want some quality time with your loyal companion? Why not take a stroll down to Mill Dam Reserve, which is a great off-lead place for dogs. They'll have plenty of canine company, too!
More Info
:
https://longfordriversidecaravanpark.com/
Location
:
2A Archer St, Longford TAS 7301
Rivers Edge Wilderness Camping
Here's a beautiful camping and recreation area in the foothills of the Tahune Forest. There's heaps of space, with plots spaced out along a kilometre of river frontage – so there's plenty of space between sites! All campsites are equipped with a fire pit, as well as powered and unpowered sites, a camp kitchen, BBQ grills, laundry facilities, toilets, and showers.
Best of all, the campsite is right near Sled Dog Adventures Tasmania, where you can try your dog on a sled. If you're interested in teaching your dog how to become a sled dog we suggest checking out our article,
Getting Started With Sledding.
More Info
:
https://www.campingtasmania.com/
Location
:
1322 Lonnavale Rd, Lonnavale TAS 7109
Scamander Tourist Park
Scamander Tourist Park is situated close to the Bay of Fires and Freycinet National Park. The park has lengthy pristine beaches, excellent fishing, and ocean views from cottages and campsites – all in grassy powered sites with ocean views, as well as tent sites in natural bush settings. The site's pet-friendly for powered and unpowered campsites (as long as they're on-lead) – but remember, pets aren't allowed in cabins or on-site accommodation.
For a doggie escape, try the huge expanse of nearby Beaumaris Beach, where your dog can run along off-lead on the huge, flat expanse of sand. They'll be tuckered out by the end!
More Info
:
https://scamandertouristpark.com.au/
Location
:
70-88 Scamander Ave, Scamander TAS 7215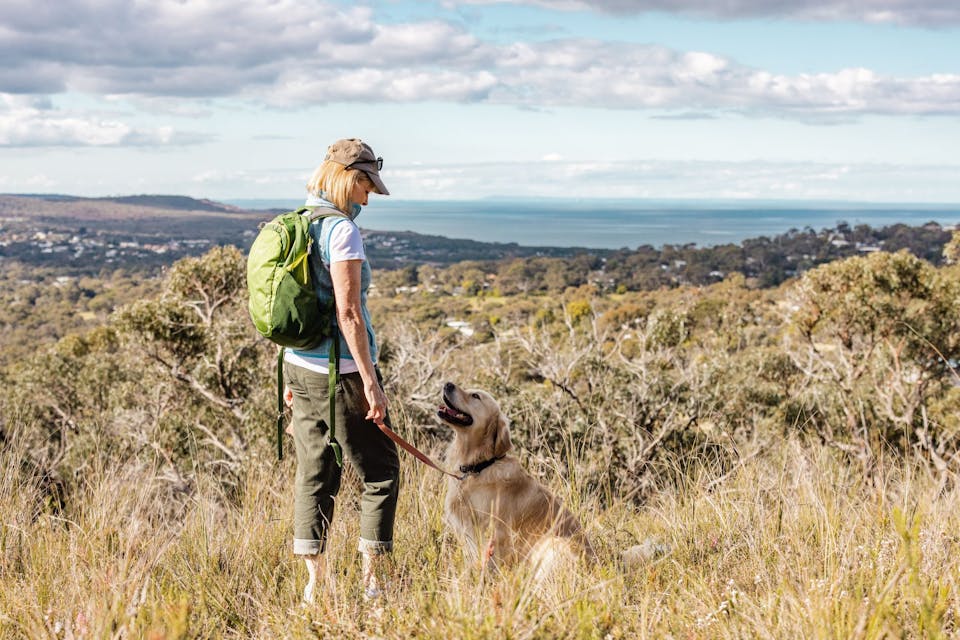 Nutrition For Your Active Dog
With all these unmissable campsites around Tasmania to visit, your dog will need a nutritionally balanced diet to keep up the cracking pace. That's why feeding your dog Eukanuba is a great move – it's got all the nutrients your highly active dog needs to keep up their energy levels and start every day on the camping trail bright-eyed and bushy-tailed.
Rules For Camping With Dogs
We don't want to go into too much detail, but we would like to mention a few important rules that dog owners should know when camping with dogs (and camping in general!).
Rule 1: Clean up your dogs mess - Your fellow campers have travelled to the campsite to find pristine nature – so make sure to clean up after your dog.


Rule 2: Keep it down - Because barking can be disruptive to other campers, it's important you've taught your dog to be obedient before heading off. One great way to do this is by bringing plenty of toys to keep them occupied when they get bored – and remember, exercise is another great way to keep a puppy entertained without barking.


Rule 3: Be Safe - Keep your dog on the lead whenever it's specified by the campsite's rules, as well as keeping a close eye on them at all times.
Getting on board with these rules is the perfect way to have a stress-free holiday with your dog among Tasmania's many natural delights. By camping together in the middle of Tasmania's stunning natural beauty, you and your dog will form a bond that will last a lifetime. Happy adventuring!
nutrition for active dogs