The Best Dog Beaches in Melbourne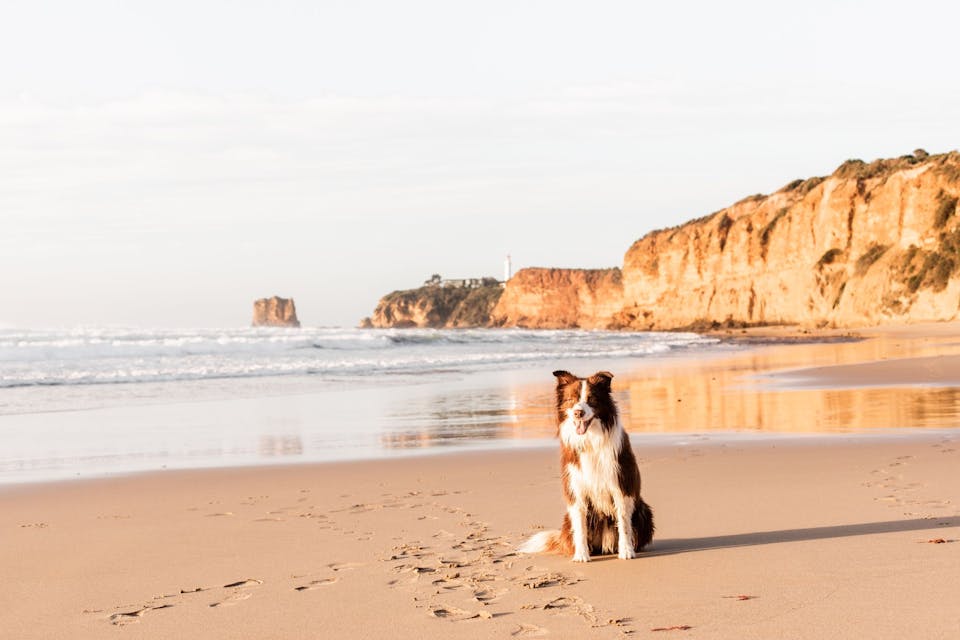 Melbourne's a city of often-hidden dog-friendly experiences. We're here to help you make the most of them with a deep dive into the city's most well-known (and lesser-known) dog-friendly beach locations. And because Melbourne wouldn't be Melbourne without the Yarra, we've also included some river-bound dips your dog will enjoy just as much!
Before setting off to the beach, it's vital that they know how to walk beside you on a lead, as often dog beaches will require your dog to be on a lead. Luckily, we've created an article to help you to train your puppy to walk calmly beside you.
Speaking of being prepared, it's important that you're set up with the basics before heading off to the beach. This includes bringing all the right gear with you, (towels, shade, etc..) as well as dog food, to ensure your puppy is fed a nutritious diet throughout the day, and keeps their energy levels high. Eukanuba has formulated a puppy food range that's clinically proven to increase levels of DHA for smarter, more trainable puppies.
This omega-3 fatty acid supports healthy brain function and promotes learning and memory. Before being weaned, puppies receive DHA from mother's milk; feeding it in their diets is a vital part of their brain development.
So, let's get into the important stuff – which beaches in Melbourne would your dog (and you) love the most? Let's take a look!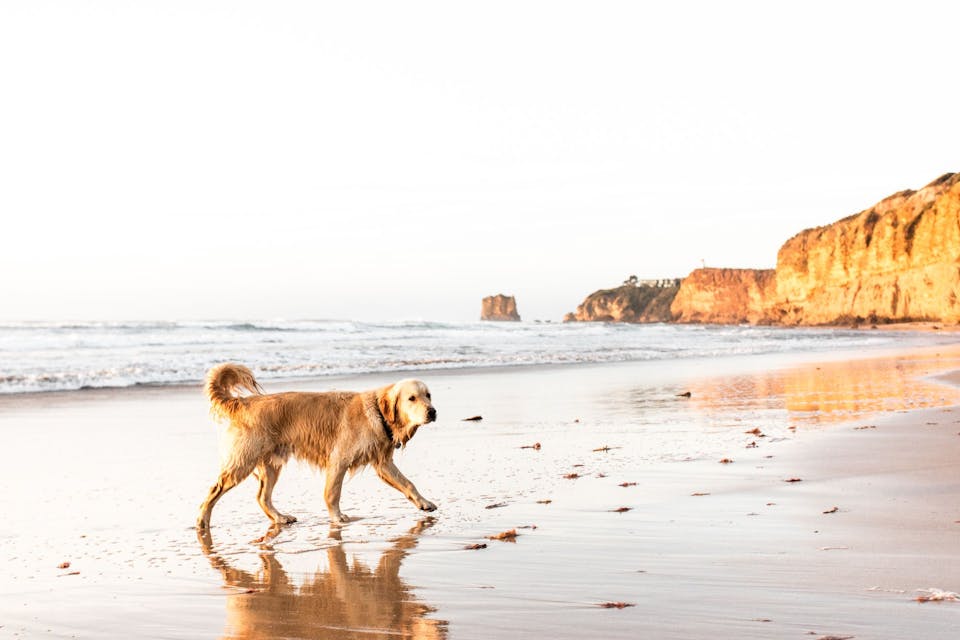 The Best Dog Beaches In Metropolitan Melbourne
Inner Melbourne may not be known as much as other Australian cities for its beaches, but it's blessed with a bunch of gorgeous, calm beaches that you'll both immensely enjoy.


Sandridge Dog Beach, Port Melbourne
The Sandridge Lookout is a major feature of this beach region. This high structural overlook, located only 800m along Dockside Rd, extends out into Hobson Bay (the northernmost portion of Port Phillip Bay). It provides panoramic views back to the beach over to the city's western face, then back over the graceful curve and climb of the Westgate Bridge. This is a fantastic area to come when walking your dog, if you'd like a bit of time out.

Dogs are allowed off-leash on the beach between the rock groyne opposite Cumberland Road (2nd groyne from Sandridge Beach) and the rock groyne opposite Barak Road, a distance of about 220m. From 1 April to 31 October, dogs are permitted at all times on the rest of the beach. At other times, they're prohibited – as well as being prohibited in the environmentally sensitive area of Perce White Reserve all year round.


South Melbourne Beach (Albert Park Beach)
Bang in the middle of Melbourne's bustling cafe scene, this beach is well-known for a reason. It's a lovely straight stretch of smooth sand, perfect for your dog to frolic and splash. And when they're done, you can grab a coffee or (if the weather's good) a gelato at one of the renowned cafes nearby.

On this beach, dogs are allowed both off-lead and on-lead at different periods. From 1 April to 31 October, dogs are permitted off-leash at all times. From 1 November to 31 March, dogs are prohibited.


Middle Park Beach
This is another inner-Melbourne gem, which offers a serene beachside experience for you and your dog. And once you've finished having your time on the beach together, there's a lovely walkway right next to the beach which will take you on a lovely scenic walk right through one of Melbourne's more urbane settings.

From 1 April to 31 October, dogs are permitted off-leash at all times. From 1 November to 31 March, dogs are only allowed off-leash between 7:30pm and 10am. They must be on-leash at all other times.


West Beach
Just next to Middle Park Beach, you'll find West Beach, which can be fairly described as a dog paradise. It's off-leash at all times in this short little beach in the heart of Bayside Melbourne, so you're likely to find many other dogs enjoying the same freedoms whenever you're there.


Albert Park Lake, Albert Park
Sure, this isn't exactly a beach – but your dog will love it all the same. Nestled near the heart of Melbourne, Albert Park Lake is a real gem.

Albert Park Lake is in the middle of a large and beautiful park, and dogs are permitted on most of it. Around the lake itself, you'll find a lovely on-lead walking track which your dog will love. (Keep your dog out of the lake itself, though, as well as the playground.)

There are also a couple of areas within the park where dogs are allowed off-lead – one to the park's northern end, and another to its western end.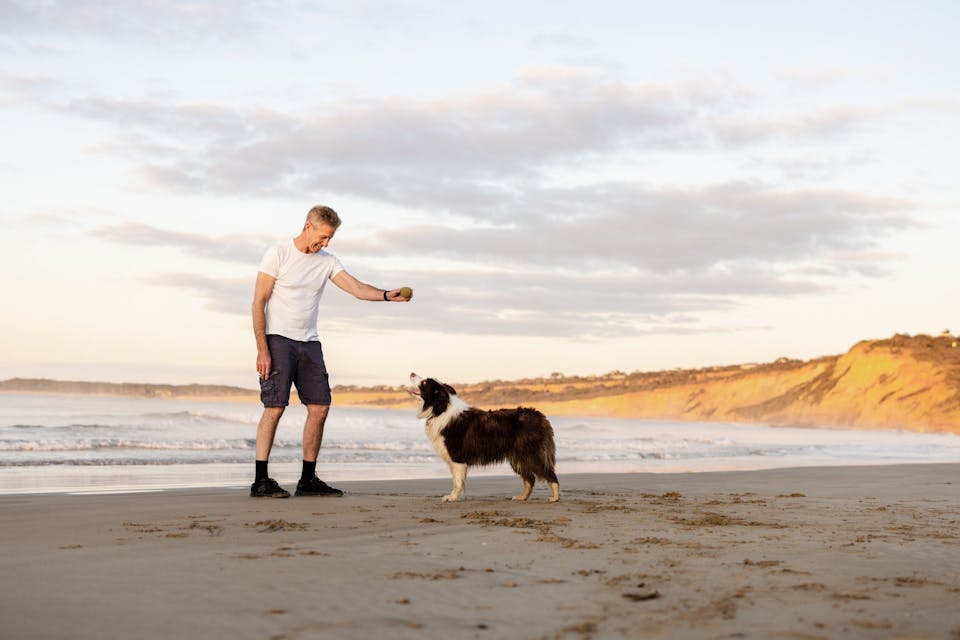 The Best Dog Beaches In South-East Melbourne
Melbourne's leafy south-east is also a great place for dogs to get fit, sandy, and happy. You've got plenty of options when taking your pooch to experience some carefree fun in the surf.


St Kilda Dog Beach, St Kilda
Spanning the bohemian beachside suburb of St Kilda, this dog beach is sure to be a favourite among all discerning canines (and their trendy owners). Offering your dog a nice wide flat expanse to joyfully run around on, this calm and shallow beach is a safe choice for dogs who are in the process of learning their seaside skills.

From 1 April to 31 October, St Kilda Beach permits dogs off-leash at all times. For the rest of the year, there are no dogs allowed.


Elwood Dog Beach, Elwood
Elwood is a nice beach with clean golden sand, located between Point Ormond and Brighton. You'll get beautiful beach views, both from land and sea. Boasting clean sand and shallow water, Elwood Beach is ideal for dogs venturing out to put their abilities to the test. It's also gentle on the algae. Even though it's not as busy as St Kilda Beach, it's just as enjoyable. This is a great spot, and you and your dog will both enjoy it. At all times, there are a large number of people, children, and dogs playing on the beach.

On the Northern side of Elwood Beach, dogs are permitted off-lead from 1 April to 31 October. For the rest of the year, they're only allowed off-lead from 5:30–9:30am. On the beach's southern side, dogs are permitted off-leash from 1 April to 31 October. For the rest of the year, they're prohibited.


Brighton Dog Beach, Brighton
The Sandown Street Beach (formally known as Brighton Dog Beach) is a fantastic portion of the globe in Bayside. It's the perfect place to take your dog for a sandy, water-soaked romp - as it's a fully fenced off dog park! The lovely shoreline has absolutely everything to offer both of you, with a wide variety of fauna and windswept scenery. And it's just a little way away from a suburb with a huge number of lovely walks. With Brighton's pier on your left reaching the marina, you may catch a view of the various boats in the port.

At Brighton Dog Beach, dogs are allowed off-leash all year!


Mentone Dog Beach, Mentone
Mentone Beach is one of Melbourne's most well-known dog-friendly spaces. You're free to take your dog off the leash in the beach's western section, as long as you keep the leash on while your dog's on the path. Pay close attention to the rules for dogs, as these vary throughout the year.

From 1 November to 31 March, dogs are permitted off leash on sand only between sunrise and 10am. They're prohibited on sand between 10am and 7:30pm, and they must be on the leash if you take them on the sand between 7:30pm and sunrise. From 1 April to 31 October, there's an on-leash area between 11am and 3pm. At all other times, it's an off-leash area (sand only).


Keast Park, Seaford
This is a wonderful open-space park that's also conveniently placed. There are plenty of chairs and tables to sit at, as well as barbeques, taps, and drinking fountains. As well as lovely grassy areas, there are trees to provide shade for you and your dog if you're attending when it's hot. Because of its location, the coastal and silver banksias are abundant and provide excellent shelter. In short, it's a calm and nice place to take your dog and enjoy the day.

The beach at Keast Park is the only year-round dog off-leash beach near Frankston, with a 200-metre section of sand for dogs to run and play between the allocated markers.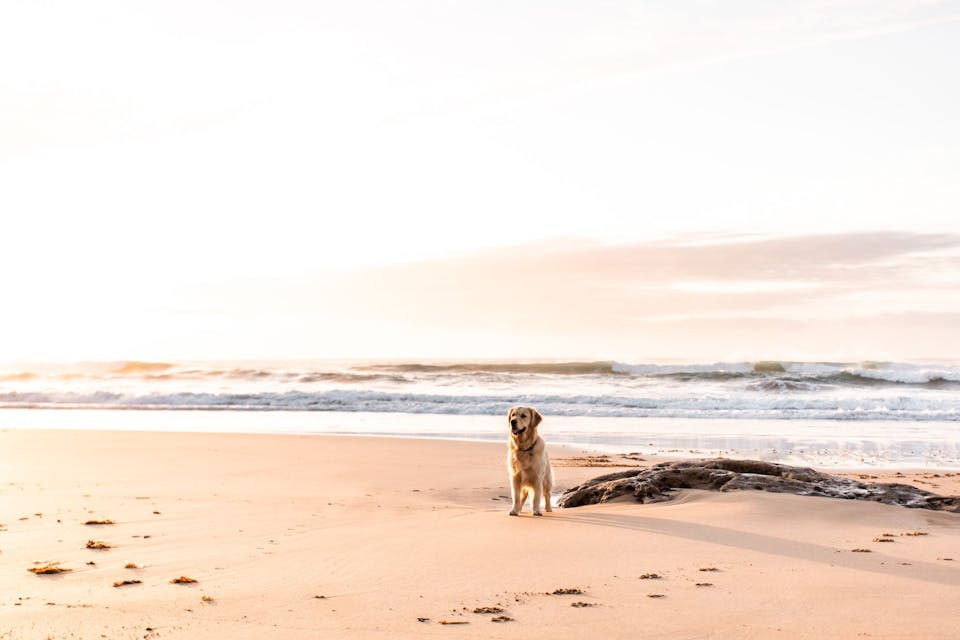 Fossil Beach, Mornington
This stark, peaceful beach offers something different for dogs and humans alike. Situated around 10 minutes' walk down a track from the main road, the quiet, secluded beach features a huge amount of shells that have washed up there.

The beach is a beautiful place to sit and go for a run, with large rocks and many shells. It's quite rough though, with much of the path made of sharp sticks -- so don't go too fast with your dog! Once you're past the rocky beach, it's an ideal environment for wading.

The beach is a leash-free area (but remember, dogs must be kept on-leash until arriving).


Royal Beach, Mornington
Royal Beach is located farther south, just a short walk from Mornington's main centre. It's a year-round dedicated off-leash beach, situated away from the other surrounding beaches. From here, you can see Melbourne in the distance.

While quite compact, the beach offers a variety of activities for your dogs to enjoy, including rockpools, bush, and cliffs. The off-path sections of the beach are very rugged, meaning that all but the most daring dogs probably won't be tempted to stray far from the path.

Dogs are permitted off-lead at all times at Royal Beach.


Flinders Beach, Mornington
The northern end of Flinders Beach on the Westernport side of the Peninsula is dog-free all year. The greatest time to visit this beach is during low tide, when you and your closest friend may explore the rockpools. The dog beach is leash-free all year.


Sandringham Beach
This picturesque and relatively quiet beach doesn't get overcrowded, so it's great for some quality time with your dog.

On the northern side of Sandringham beach, dogs are permitted from sunrise to 10am off-leash. From 7:30pm to sunrise, they have to be on-leash, and from 10am to 7:30pm they're prohibited.

On the southern side, dogs are permitted off-leash at all times from April to October. In other months, they're permitted off-leash from 7:30pm to 10am and prohibited at other times.


Mentone Beach
One of Melbourne's favourite beaches, Mentone Beach has long been one of the city's bayside highlights. Fortunately, there are options for dogs, too.

Between Charman Rd and Plummer Rd on the beach's northern side, there's a year-round off-leash area. From Plummer Rd to High St, dogs are allowed off-leash from sunrise to 10am. They're prohibited from 10am to 7:30pm, and have to be on-leash from 7:30pm to sunrise.


Tassells Cove Dog Friendly Walk, Safety Beach
Near the northern end of Safety Beach, there is a wonderful small cove perfect for dogs and their owners. It's quite a compact stretch of sandy beach, surrounded by sandstone cliffs.

Because the beach is dog-friendly all year and is separated from the main beach, dogs can roam around freely. Dogs are permitted off-lead at all times on the beach at Tassells Cove, between Bruce Road and the entrance to Martha Cove.


Frankston
This beachfront city lies around 45 minutes from Melbourne, and is a great place to take your dog for a day out – as long as you make sure you go at the right time of year.

At Frankston, dogs are prohibited from all beaches between 9:30am to 7:30pm from 1st December to 31st March. Outside of those times and throughout the rest of the year, dogs are permitted on-lead at all beaches.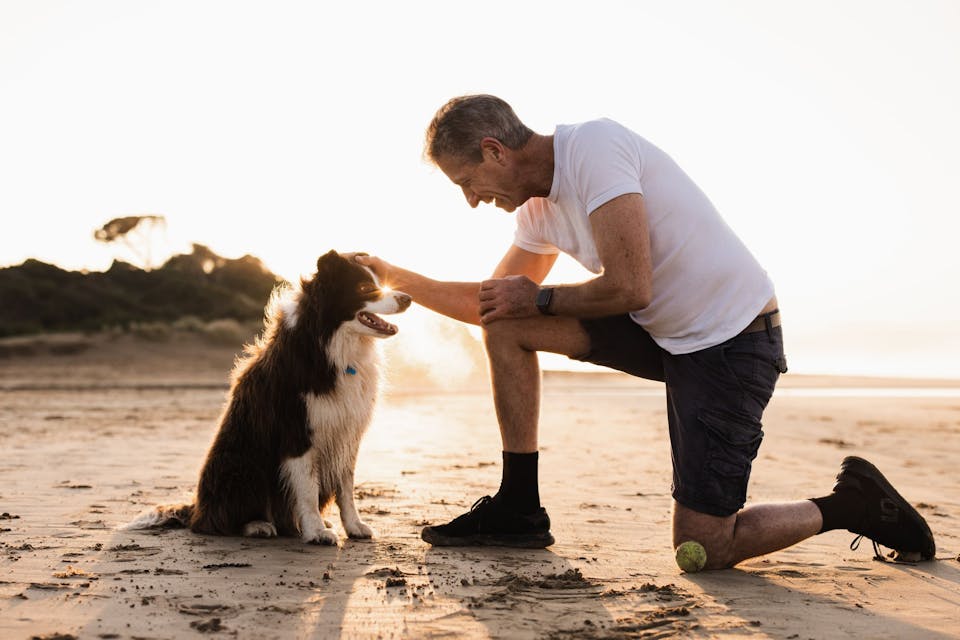 The Best Dog Beaches In South-West Melbourne
South-west Melbourne is often overlooked, but it has many hidden treasures, including some of the most beautiful dog-friendly beaches.


Altona Dog Beach, Altona
The beach in Altona is relatively shallow. Many people bring their dogs to the beach at low tide to socialise and frolic around, to take full advantage of this off-leash area. While exercising your dog, you'll see expansive city views, including Williamstown and Port Phillip Bay. With the walk interspersed with puddles, you and your dog will have a ball splashing through it.

There's a long pier located at Altona beach where you can walk out and look down over the water and the swimmers without getting wet. The heritage-listed pier, constructed in 1888, still stands. In the summer months, Altona Beach is a very popular swimming spot for residents and families and is patrolled by surf lifesavers during these times. The water at Altona Beach is calm, so you'll be able to have a nice time paddling along beside your no-doubt excited dog.

The beach is leash-free all year – but watch out for several reserves nearby, which dogs aren't allowed into.


Campbell's Cove Beach
This small beach is a hidden attraction of Melbourne's south-west. A very safe beach with a hazard rating of 1/10, the beach is ideal for beginner swimmers.

On the main beach, dogs must be on-leash. But there's an off-leash area too, which runs from the eastern edge of the car park at the end of the boat sheds to the boundary fence of the Point Cook RAAF base.


Geelong
Around an hour and 20 minutes out of Melbourne, the City of Geelong is home to a stretch of beaches that would be perfect for a great day out with your favourite friend. It's quite a long stretch of sand, so here are a couple of highlights for you both to enjoy.


Geelong Beach
This beach deserves a mention as the prime beach of Melbourne's closest large city. Long and sweeping, Geelong Beach is a great place for you and your dog.

Dogs are permitted off-lead at all times at Geelong Beach between the point where Point Henry Road meets the coast and Point Henry Pier.


Eastern Beach Reserve
Geelong's Eastern Beach is a wonderful spot for families and dogs alike. a safe, sheltered swimming area for older children and adults. There are extensive grassy areas to enjoy, too.

Dogs are permitted on the sand and in the water at Eastern Beach, but must be kept on a leash.


Corio Bay
There is a small off-leash area here, as long as your dog is supervised. During council events, dogs must be on-leash.


Point Henry
This little beach offers some unique views across Corio Bay. In the off-leash area at the reserve's northern point, dogs are permitted off-leash as long as they're supervised. They're not permitted on the beach during council-sponsored events.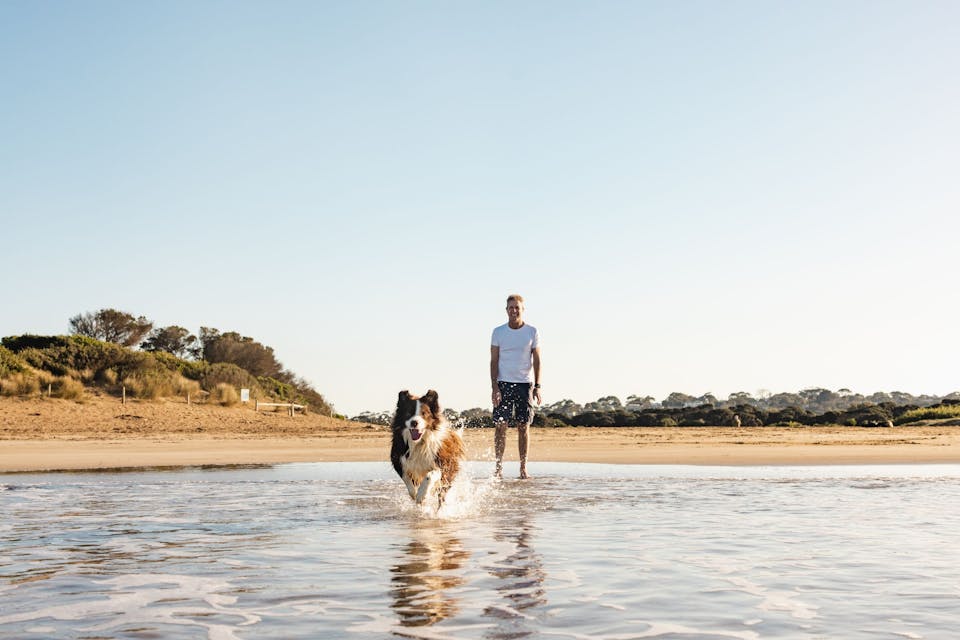 Anglesea
Anglesea's beach is a bit over an hour from Melbourne, and more peaceful than some of its neighbours. The shallow waves at Anglesea's curving main beach are a good fit for doggy adventures, as your friend will love skipping along next to the gently rolling waves.
At Anglesea's main beach, the dog rules are a little complex. From 1 December to 28 February and over Easter, there's no dogs allowed from 9am to 7pm (except on defined paths and on a leash). After that, though, dogs are allowed off the leash, as long as they're under effective control. Outside those dates, dogs are allowed off the leash as long as they're controlled.
South of Anglesea's main beach, and just around from Point Roadknight, there's a small off-leash area for you and your dog to enjoy which is the easter part of the Lorne-Queenscliff Coastal Reserve. (Remember, though, you can't walk there together straight from Anglesea Beach to the north, because dogs aren't permitted on Point Roadknight which lies between them.)
Torquay
One of Victoria's most famous surf-oriented locations, Torquay Surf Beach is where the glamorous go to catch some sun. Located 100km south of Melbourne, Torquay Surf Beach is a gorgeous (and extremely popular!) stretch of white sand.
Yet its charms extend to dog-friendly facilities as well. Despite the name, the waves at Torquay Surf Beach are quite gentle and regular, so you won't have to worry about your friend's prowess in the water. There are a number of other beaches running along the Torquay coastline, several of which are dog-friendly.
Whites Beach
If you keep alongside the esplanade from the main beach, you'll hit Whites Beach. Much quieter than its mainstream neighbour, it's great for some solitude (as much as that's possible with a dog!) The peaceful nature of Whites Beach makes it ideal for walking and jogging (as long as the tide's out).
Dogs are permitted off-lead at all times on this lovely beach, east of Aquilla Avenue. Free dog bags are available just before the entrance to the beach if you've forgotten to bring yours, hanging on the wooden post.
Jan Juc Beach
This is quite a full-on surf beach, with justifiably famous big waves that give any surfer a run for their money. During regulation times, the beach is patrolled by lifeguards – but it's not advised to venture in too far if you're not an experienced swimmer. (Keep that in mind for your dog, too!)
Dogs are permitted off-lead here along the section of this famous surf beach surrounded by cliffs, west of Rocky Point.
Ocean Grove
This surf spot has long been a favourite for those escaping the bustle of Melbourne for a few days. The beach is best experienced at high tide – but because the rips can be quite strong at low tide, it pays to be careful with your dog during these times. It's a good idea to stay between the flags, given this potential hazard.
At Ocean Grove's main beach, dogs are permitted off-lead at all times on the beach between Hodgson Street and Aldebaran Road.
Even though spending time at the beach is heaps of fun for your dog, it's strenuous too. And because they're enjoying themselves so much, they often won't realise how much energy they'll need to keep on going and going. That's why
Eukanuba's created a scientifically balanced dog food
with all the nutrients your dog requires to power through.
This information should give you everything you need to have a superb beach experience with your dog in Melbourne. Happy splashing!
nutrition for active dogs