The Best Dog-Friendly Camping In South Australia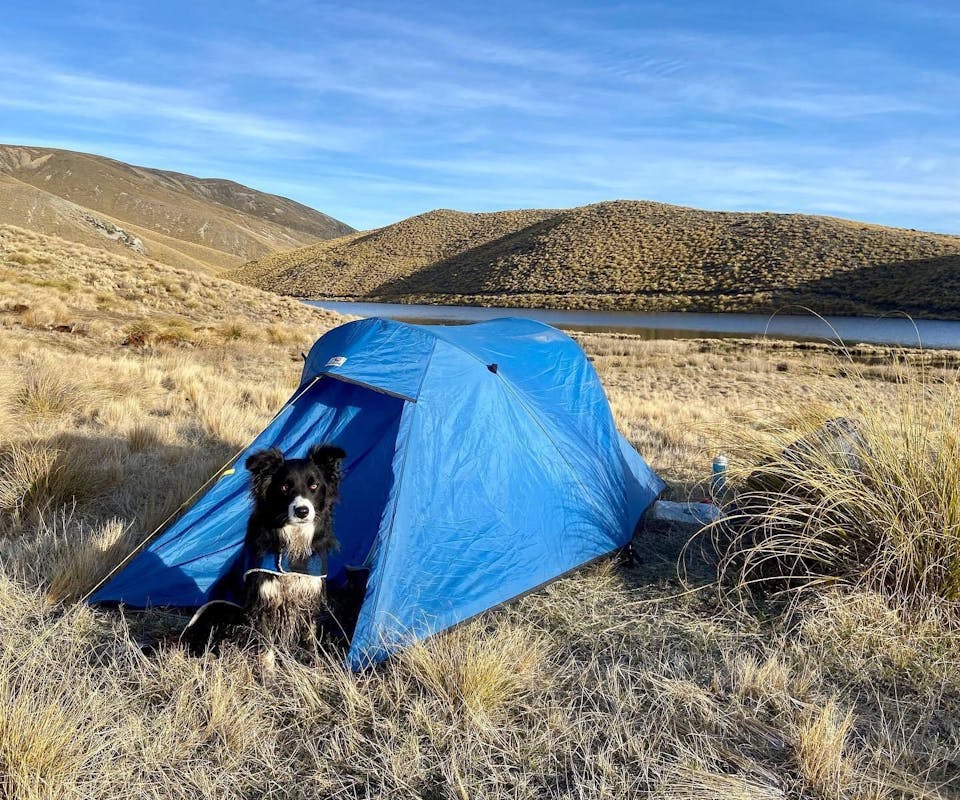 The gorgeous environment of South Australia is chock-full of amazing campsites that you and your dog will love to bits. We've done our homework to bring you a list of 28 campsites that will be perfect for both of you – all within one of Australia's most visually spectacular natural environments.
Many of these dog-friendly campsites require your dog to be on a leash – so to make sure your dog's perfectly prepared before heading off to the campgrounds, have a read of our article about
training your puppy to walk on a lead.
Now, let's explore some of the greatest camping spaces in South Australia that will be perfect for you and your dog.
Bendleby Ranges, Flinders Ranges
On a working station in the Southern Flinders Ranges sits a multi-award winning adventure tourist attraction, Bendleby Ranges. This peaceful campground is in a pristine natural setting, with far-flung campsites tucked into the slopes amid creeks fringed with gum trees.
In the main campground, native trees surround the private, powered, or unpowered campsites. There are great bushwalking opportunities for you both to enjoy, too. At the end of a long day's walk, drink in the expansive views of Lake Frome, Wilpena Pound, and the surrounding landscape from the two mountain ranges while your furry companion has a well-deserved rest. (If you've got a bit of dog-free time, exciting activities for humans include birdwatching, 4WD routes, and mountain biking.)
You're allowed to take your dog if they're kept on a leash, as long as you remember to give the owners a call first.
More info
:
https://bendlebyranges.com.au/
Directions
:
Croatia Ave, Belton SA 5432
Lake Lochiel Rest Area, Ardrossan
More of a refueling stop than an extended destination, the Lochiel South Rest Area, which has a view of Lake Bumbunga. Situated back from the Princes Highway, the area has a few large trees that provide some shade if you and your dog are feeling the heat. Dogs are permitted year-round – and although they have to be on a lead, there's plenty of space for them to stretch their legs. There's also a covered picnic table if you're aiming to eat lunch here.
More info
:
https://www.aircamp.com.au/campsite/lake-lochiel-rest-area
Directions
:
Lochiel SA 5510
Big4 Stuart Range Outback Resort – Coober Pedy
This resort-style park, located halfway between Adelaide and Uluru, provides a wide variety of activities and lodging. Campsites and caravans are available, with helpful staff on hand to help. The Outback Bus Tour, operating every day in the winter, is a key feature.
Dogs are permitted on campsites and in caravans, but not in the apartments. Call well ahead, though – management reserves the right to refuse admission to a dog who may cause concerns, so you'll want to make sure your furry friend has the all-clear before venturing down here. Just remember to pick up after your dog while you're staying here … and keep your irrepressible bundle of energy away from food and other people.
More info
:
https://www.big4.com.au/
Directions
:
Hutchison St, Coober Pedy SA 5723
Bordertown Caravan Park
The Bordertown Caravan Park sits in a tranquil location right next to the South Australia–Victoria border. It's a nice campsite for dogs who love a bit of space. The park has mature trees, roomy grassland areas, and powered and unpowered sites.
For a change of scene, you can take your canine on a walking path leading past three public artworks. Your pooch is also sure to enjoy the nearby Bordertown Recreation Lake, which offers several pathways for you to explore together. There's also Poocher Swamp, a breathtaking wetland that is home to a variety of animals, birds, and mature redgums, where you can take your dog off-leash for a dunk in the cool water. (If you can grab some time alone, you can also do some canoeing and fishing.)
You're all OK to bring your dog along, as long as you call ahead to confirm.
More info
:
https://bordertowncaravanpark.com.au/
Directions
:
41 Penny Terrace, Bordertown SA 5268
Brownhill Creek Tourist Park — Mitcham (Adelaide)
The Brownhill Creek Caravan and Holiday Park in Mitcham, in Adelaide's green eastern suburbs, is located in the Brownhill Creek State Recreation Park – an ultra-convenient 7km from the city centre and a bunch of seriously gorgeous beaches.
Located on 25 acres, the park's the perfect spot for your dog to unwind, relax, and sniff under the nearest tree, all with the convenience of being five minutes from Norwood and Unley. Pets are permitted at the manager's discretion (on powered sites), so make sure to call first and check.
More info
:
https://brownhillcreekcaravanpark.com.au/
Directions
:
Brownhill Creek Caravan Park
Coopers Creek Camp, Birdsville Track, Outback
The Coopers Creek Campground is located on the Cooper Creek floodplain, 135 kilometres north of Marree and 385 km south of Birdsville. There's a restroom, as well as some of the greatest shade along the Birdsville Track. Feel free to bring your dog along – just remember to clear everyhing with management first. There's lots of shady spots if they're feeling the heat!
More info
:
http://www.findacamp.com.au/camp-site.php?camp=1322
Directions
:
Coopers creek campgrounds, Coopers Creek VIC 3825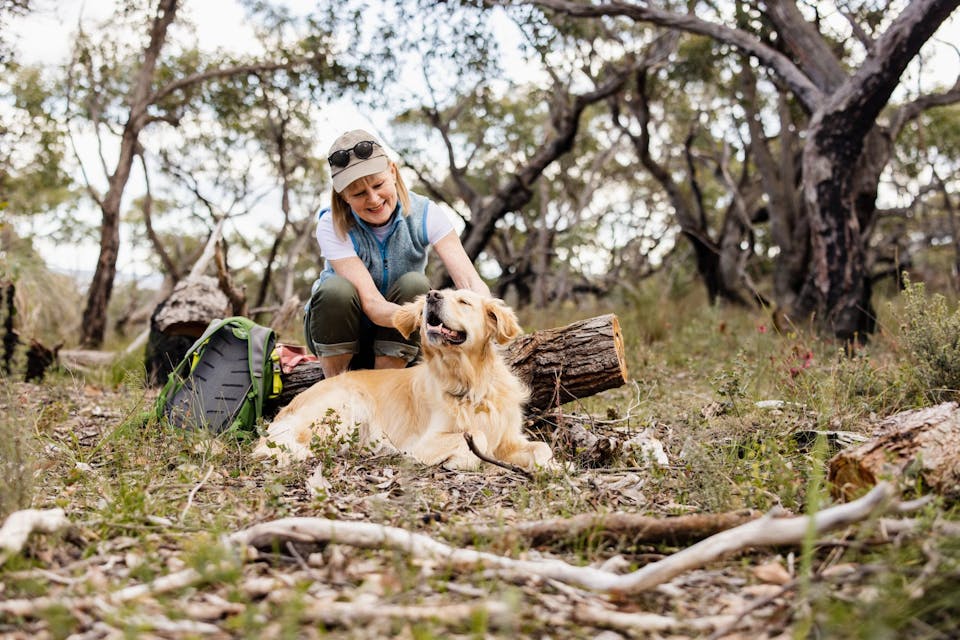 Logue Brook Campground
Set in South-West WA, Logue Brook is a gorgeous campsite which enables all those visiting to camp with their pet the whole year round. One of the major advantages of this campground is its spaciousness, which will make your dog feel comfortable. Your dog can stay with you if you've brought a tent, but cabins are for people only.
More info
:
https://exploreparks.dbca.wa.gov.au/site/logue-brook-campground
Directions
:
Lake Brockman Tourist Park, Logue Brook Dam Rd, Cookernup WA 6220
Discovery Parks Robe Holiday & Caravan Park
This location is famed for its scenery, with many highlights to enjoy. As a holiday favourite four hours from Adelaide, Robe is conveniently near the beach, so your dog will enjoy getting out and about.
You and your dog won't have any problems finding a wealth of activities to enjoy at this beautiful seaside campsite. You're allowed to bring your dog along to this park, as long as you've cleared it with the people who run the campsite first – just give them a call or email to run it by them.
There's a wealth of discovery round the corner, with the Rob Lakes and Little Dip National Park nearby. There's a BBQ, camp kitchen, playground and swimming pool. Dogs are allowed year-round too, so it's perfect for sharing a holiday with your best furry friend.
More info
:
https://www.discoveryholidayparks.com.au/
Directions
:
Discovery Parks - Robe, Esplanade, Robe SA
Kingston on Murray Caravan Park – Riverland region
Here's a little slice of paradise on the Murray's Riverland region. This privately owned caravan park offers a peaceful hideaway for all. Situated in a secluded setting near the Sturt Highway, Kingston on Murray Park is the ideal base to explore the wider Riverland region; the nearby river is ideal for exploring, with canoes and waterboarding available.
Your dog can snuggle up for the night with you here, as long as you're in a pet-friendly cabin. (Management will show you which is which.) They're also welcome on powered and unpowered sites, as long as they're kept within the park boundaries and you clean up after them.
More info
:
https://www.komcaravanpark.com.au/
Directions
:
Kingston-on-Murray Caravan Park, 461 Holmes Rd, Kingston on Murray SA 5331
Cradock Hotel Campground, Flinders Ranges
This dog-friendly campground offers toilets and showers. Camping in tents is allowed, and the campsite is free as long as you buy a drink in the pub.
You can take your dog along, too – just remember to keep them away from the Ikara Flinders Ranges National Park nearby, where pets aren't permitted.
More info
:
https://www.aircamp.com.au/campsite/
Directions
:
1 Main St, Cradock SA 5432
Discovery Parks Barossa Valley, Tanunda
This well-known campsite is set on the Barossa Valley, one of Australia's premier wine regions. It's also conveniently located near the centre of the lovely town of Tanunda, with dramatic landscapes and striking churches. Dogs are permitted at this campsite year-round.
Some of Tanuda's other charms include an activity room, BBQ, camp kitchen, playground, kiosk/store, swimming pool and splashtacular waterpark. (Humans only, unfortunately!)
More info
:
https://www.discoveryholidayparks.com.au/
Directions
:
Barossa Valley Way, Tanunda SA 5352
Discovery Parks Clare Valley
This park is perfect for fans of beautiful scenery, which you and your dog will have fun exploring. Set among rolling hills, Clare Valley park is also near the spectacular Riesling Trail, the gateway to the Eyre Peninsula and the South Australian outback.
You can take your dog to this campsite, which also includes features such as a BBQ, bike station, family bathroom, kiosk/store, swimming pool, and sports facilities.
More info
:
https://www.discoveryholidayparks.com.au/
Directions
:
8511 Horrocks Hwy, Clare SA 5453
Hahndorf Resort Tourist Park – Adelaide Hills area
Just 20 minutes away from Adelaide's CBD, this park will lead you into the Adelaide Hills. Dogs are allowed here year-round, with the abundant hills offering all the exercise your active dog will need!
In town, you'll find many charming shops and restaurants, with abundant wineries nearby. The many family-friendly activities include hiking trails (dog-compatible) and the Beerenberg strawberry farm (more human-oriented). The campsite includes BBQs, family bathroom, laundry, playground, restaurant, camp kitchen, family bathroom, laundry, and swimming pool.
More info
:
https://www.discoveryholidayparks.com.au/
Directions
:
Hahndorf Resort, 145a Mount Barker Rd, Hahndorf SA 5245
Kimba Recreation Reserve, Eyre Peninsula
Want to dive into a dog paradise? This picturesque pet-friendly venue is the perfect getaway for you and your dog to explore all year round. It's close to the Roora Reserve walking route, so you can help your dog burn off some of that virtually limitless canine energy.
Back at camp, the Kimba Recreation Reserve features a designated free camping area. You won't be totally roughing it either, with restrooms, a coin-operated shower, water, a playground, an oval, and courts. There's no electricity though, so you'll need to be resourceful here!.
More info
:
https://www.kimba.sa.gov.au/
Directions
:
Kimba Free Camping, 37 North Terrace, Kimba SA 5641
Lake Leake Campground, Limestone Coast
This beautiful and relaxing spot is complete with a grassed area to camp along the lake and fire pits, with your four-legged companion in tow. There are clean toilets and an undercover BBQ area, with plentiful bins. The campsite is very well-maintained. From the barbecue area, take a scenic walk for great views of the crater lake. There are also undercover areas in this quiet spot, as well as a nearby farmhouse.
We're excited to say that dogs are permitted year-round at this beautiful location, as long as they're kept on a leash.
More info
:
https://www.aircamp.com.au/
Directions
:
Koorine SA 5279
Lipson Cove
Between Tumby Bay and Port Neil, the Lipson Cove bush camp is quite close to the Spencer Gulf beach. The campground is located on a spacious site with an attractive outlook. There are restrooms and a swimming pool at this accessible campsite, which permits tent camping (and dog companions in tents).
Best of all, dogs are welcome year-round!
More info
:
https://www.campsaustraliawide.com/
Directions
:
Lipson Cove Rd, Lipson SA 5607
Mallee Fowl Restaurant and Camp, Monash, Riverland
This beautiful campsite is set on 20 acres of bush, complete with Australian animals including emus. Dogs are welcome at the campsite but must be kept on a leash. (Emu vs dog is definitely not a contest you'd like to see.) The campsite's right near the banks of the Murray River, perfect for a stroll with your eagerly playful hound.
As well as taking your four-legged companion along to the campsite, you're also welcome to bring them along to the restaurant's outdoor area for a unique eating experience! (Just remember you'll probably end up defending your dinner down to the last mouthful…)
More info
:
https://www.aircamp.com.au/
Directions
:
Lot, 19042 Sturt Hwy, Monash SA 5342
Moonta Caravan Park, Yorke Peninsula
With 188 metres of direct beach frontage, Moonta Bay Holiday Park's a nice escape for dogs who love a good splash. Moonta's known for its bathing beaches and crystal-clear seas, so you and your dog will have a ball running merrily along the shoreline together…
Your dog's welcome to stay in powered and unpowered sites, but they aren't permitted in or around the cabins.
More info
:
https://www.moontabayholidaypark.com.au/
Directions
:
5 Tossell St, Moonta Bay SA 5558, Australia
Murray Bridge Marina Camping & Caravan Park – Murray Lands region
The Murray Bridge Marina Camping and Caravan Park is a leisurely 45-minute journey straight up the South Eastern Freeway from the Adelaide Tollgate. The park is situated on the outskirts of Murray Bridge, a tranquil and attractive location right on the banks of the lovely Murray River.
This campground has something for humans and canines of all persuasions, whether you're interested in vineyards or animals, water sports or motor sports, bones or biscuits. Management allows pets at their discretion, as long as they're declared on arrival. Pets aren't allowed in cabin accommodation, though – so be prepared for a dog-heavy night in the tent!
More info
:
https://murraybridgemarina.com.au/
Directions
:
Roper Rd, Murray Bridge SA 5253, Australia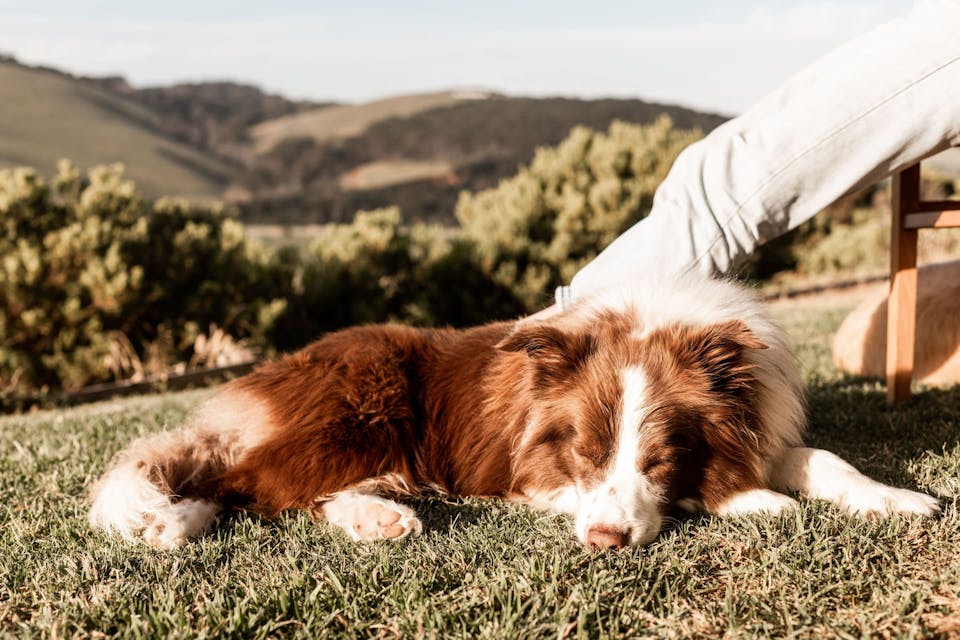 NRMA Victor Harbor Beachfront Holiday Park – Fleurieu Peninsula
Visit NRMA Victor Harbor Holiday Park on the Fleurieu Peninsula for an excitement-filled vacation. At this oceanfront park, you'll both enjoy a warm atmosphere tucked away from the hustle and bustle of the city, yet just an hour from Adelaide. There's also a water park, heated pool, and other amenities, as well as welcome grassy areas for your dog to have a much-needed walk.
Approval for your dog to stay is at the park manager's discretion (not bookable online). Once approved, you'll be emailed a pet waiver form to sign and return. Dogs, cats, rabbits, or birds are allowed, with a maximum of two pets per site (in selected cabins).
More info
:
https://www.nrmaparksandresorts.com.au/
Directions
:
114 Victoria St, Victor Harbor SA 5211, Australia
Pildappa Rock
The granite outcrops resembles Wave Rock, with the distinctive pattern created by erosion over a period of 1500 million years. (Your dog will be intrigued, too!) If you're willing to climb to the top of the cliff, the views are spectacular. You'll both love venturing down the walking path encircling the base of the rock, a route offering many intriguing vistas.
Back at camp, you'll find gas grills, restrooms, and a covered picnic table. Camping is permitted with a donation, and pets are allowed on-leash, as long as you check with management first.
More info
:
https://southaustralia.com
Directions
:
Minnipa SA 5654
Pine Country Caravan Park, Limestone Coast
The Pine Country Caravan Park in Mount Gambier offers dogs and their humanas the chance to calm down, take a break from everyday life, and be invigorated by the clean country air and starry night sky.
In this pet-friendly lodging, you'll find everything you'll need for a relaxing stay together. Dogs who are well-behaved and potty-trained are welcome inside and outdoors of the two designated dog-friendly cottages. Bookings must be made in advance, and it's important to remember that the conventional cabins don't allow pets.
More info
:
https://pinecountry.com.au/
Directions
:
2-16 Kilsby Rd, Moorak SA 5291
Port Gibbon
This free campsite is light on amenities – but heavy on beauty. The camp is right at the edge of the crystal-clear water, offering gorgeous natural seclusion. Dogs are allowed at the campsite, as long as owners remember to pick up after them.
The seemingly endless stretch of beach near the campsite is an ideal space for running with your dog on a sunny day (as long as they're on the leash). Remember, you're pretty much on your own here with the amenities – so it's important to bring all your water in with you. (If you're taking a dog or two, that's quite a bit!)
More info
:
https://www.campsaustraliawide.com/
Directions
:
Point Gibbon Rd, Port Gibbon SA 5602, Australia
Port Julia
The Port Julia Oval Campground provides inexpensive, accessible camping. At this pet-friendly location, you'll find flushing toilets, covered picnic tables, a BBQ, and bore water for washing and cleaning.
All dogs must be on a leash at all times (even in the campsite itself), and their owners have to pick up after them … which you do already, of course!
More info
:
https://yorkepeninsula.com.au/
Directions
:
Osprey St, Port Julia SA 5580, Australia
Port Lincoln Tourist Park – Eyre Peninsula
At the Port Lincoln Tourist Park, you'll find a variety of lodging options and amenities. There's a selection of pet-friendly accommodation available, as long as you enquire ahead of time. Dogs are allowed at the park, as long as you enquire with the owners first.Your dog will love the open grassy areas to run around on – not to mention the nearby beach and jetty, where you can take them for a sun-filled frolic on the lead.
Amenities include a kids' playground for kids, a BBQ, free WiFi, laundry facilities, covered picnic spots, and camp kitchens.
More info
:
https://www.portlincolntouristpark.com.au/
Directions
:
11 Hindmarsh St, Port Lincoln SA 5606, Australia
Port MacDonnell Foreshore Tourist Park
This park is located in a breathtaking ocean setting where you can swim, dive, and surf in the ocean or freshwater sinkholes nearby.
If you're up for an adventurous walk with your furry friend, secure walking paths lead from the tourist park to the lighthouse along the beachfront. The campsite's pet-friendly year-round … and pets even stay for free!
More info
:
http://www.woolwash.com.au/
Directions
:
12 Eight Mile Creek Rd, Port Macdonnell SA
When going camping with your dog, it's tempting to just pack up the tent, hop in the car, and get right down there to start the fun.
We love seeing dogs and their owners exploring the outdoors. There's nothing like camping to create a long-lasting bond with your new dog! If it's your first time camping or adventuring with your dog we suggest you read our article, featuring the best
tips for traveling with your dog
. And remember, pack in, pack out and always be respectful of your fellow campers (be sure to have doggie bags on hand wherever you go).
nutrition for active dogs