The Best Dog-Friendly Hiking Trails In Australia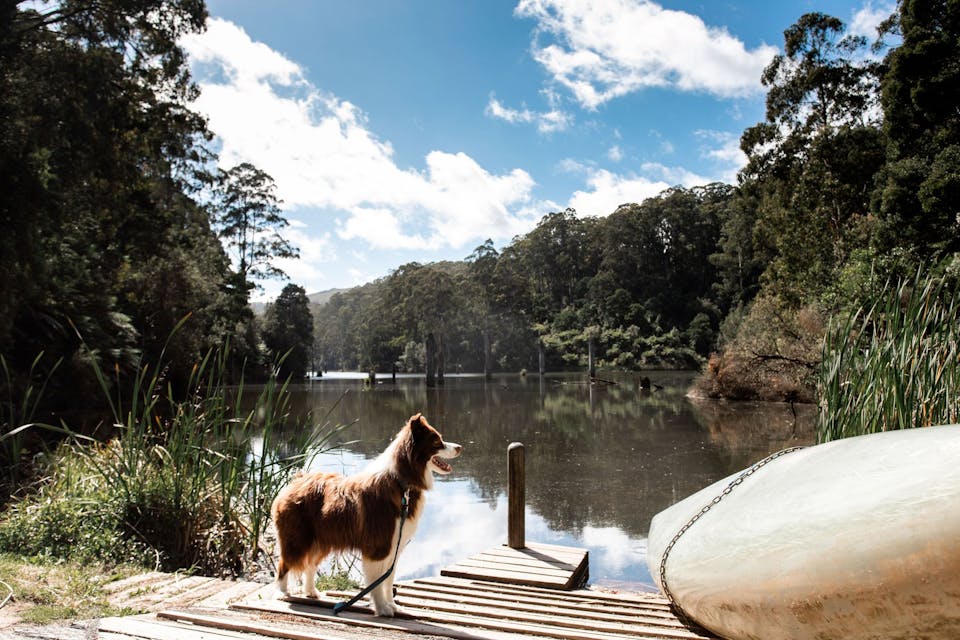 It's no secret that most dogs love going for walks. Your pup has a lot of energy to burn off, and daily walks are a great way to keep them (and yourself) fit! You can level up your walk with our list of dog-friendly hikes for more of a challenge and loads more fun.

Enjoy some of the most beautiful terrains in Australia with these dog-friendly hiking trails, keep fit, and guarantee that you'll have one pooped pup by the end of the day.

Read on for the best dog-friendly hiking options in each state.
Where are the pet-friendly hiking trails in Australia?
Unfortunately, many of Australia's most spectacular hiking trails can be found within areas that do not allow dogs. That being said, you can still find trails that are pet-friendly and just as stunning. We've collected the best of the best below.
Are dogs allowed in Australian National Parks?
Most national parks in Australia prohibit dogs from entering, even if on a leash. In NSW, for example, there are no national parks that allow dogs. Only a handful of national parks in other states allow pets.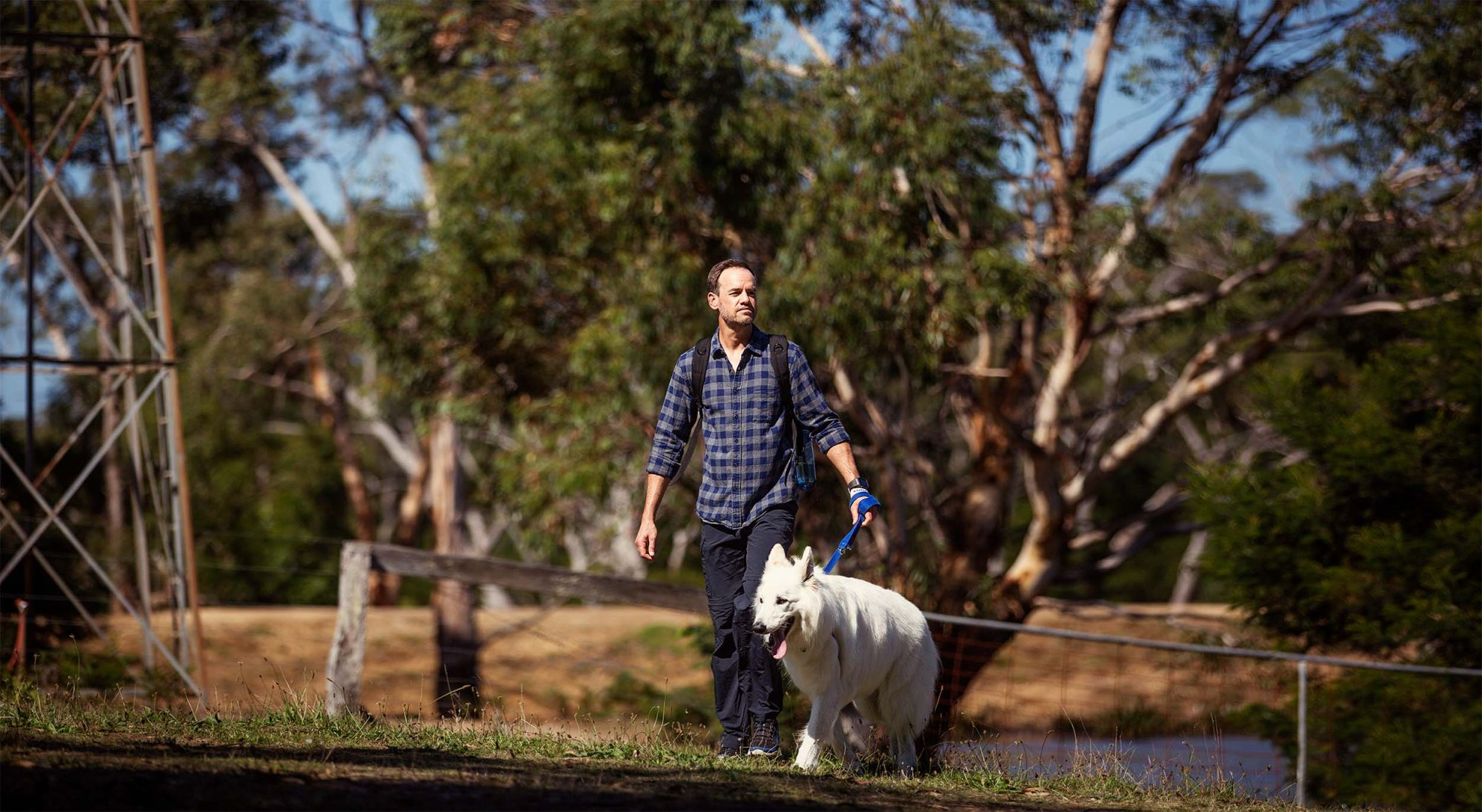 NSW
Abraham Bosom Track
The Abraham Bosom Track is a 9km track that is rated as moderate difficulty. While a leash is required on the whole route, beach lovers will adore the panoramic ocean views as they wind their way along the trail.

There are plenty of wonderful spots to stop for some playtime in the water, and you and your dog can explore the shipwrecked S.S. Merimbula, which has its own access trail. Abraham Bosom offers multiple trails, each of varying difficulty and sights. If you feel like spending some time in Sydney's best remote dog-friendly beaches, this is the hike for you.


Minnehaha Falls
For something a little shorter, Minnehaha Falls offers a 1.5km return trip that you and your dog can explore with a leash. Located in Katoomba, you and your dog can connect with nature via wide dirt paths, waterfalls, and natural pools.

This walk can be steep at times, but there are plenty of spots to stop and play or swim. We also recommend a ride on the rope swing near the watering hole.


Narrabeen Lagoon Bush Trail
Narrabeen Lagoon Bush Trail is for those with stamina! This 8.4km return trip requires a leash at all times but is also suitable for cycling. You'll see some beautiful scenery, including bushlands, a lake, and plenty of birds.

The relaxing hike is a lot of fun and one of the best hiking trails with dogs. Swimming in the lake is highly recommended if you need to cool down.


Clovelly to Maroubra
Clovelly to Maroubra may be a 7km walk, but it is relatively easy. It even has a range of spots where your dog can be off the lead for a real run-around.

You'll see a lot of dogs on this walk, so those who want to socialise their pup will find plenty of potential friends here. There are plenty of beach stops with Bronte, Coogee, and Gordon's Bay along the path, and it is also pretty easy to dart off the track for some local icecream.


Two Creeks Track
The moderate difficulty hike of Two Creeks Track involves a 6.1km walk that is perfect for dogs on a leash. There is plenty to see and explore, including rocky waterfalls, open grass-filled clearings, Echo Point Park (so and more.

When it comes to hiking trails that allow dogs, you can't go past the sandstone caves. You can stop for a snack/treat at the picnic area as well.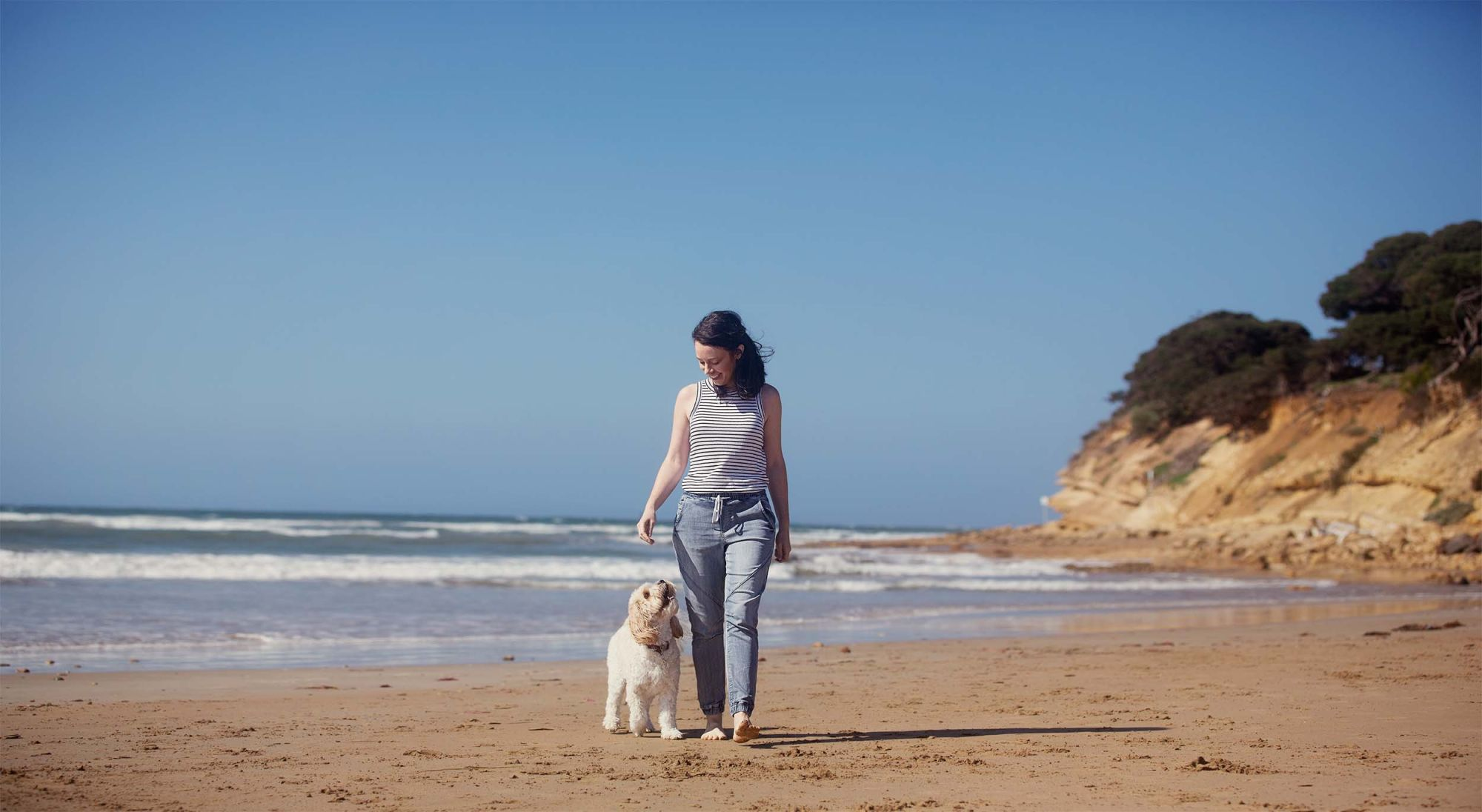 VIC
McCrae Beach Walk
There is a mix of leash and no-leash spots on McCrae Beach Walk, which is 4.18 km of lush inland greenery mixed with some very scenic beaches. Port Phillip Bay Beach is a must-stop spot for a happy snap, but be aware this track contains steep inclines and declines. You and your fur buddy will need to be in good shape to tackle this one!


Safety Beach Dog-Friendly Walk
Safety Beach Walk is 7.04 km that offers some spots where off-leash play is allowed. This is a perfect calm Sunday walk that includes coastal scenery with stunning beach views.

Thanks to the various off-leash spots along the Safety Beach walk, you and your dog will make lots of friends, as this is a true doggo hotspot.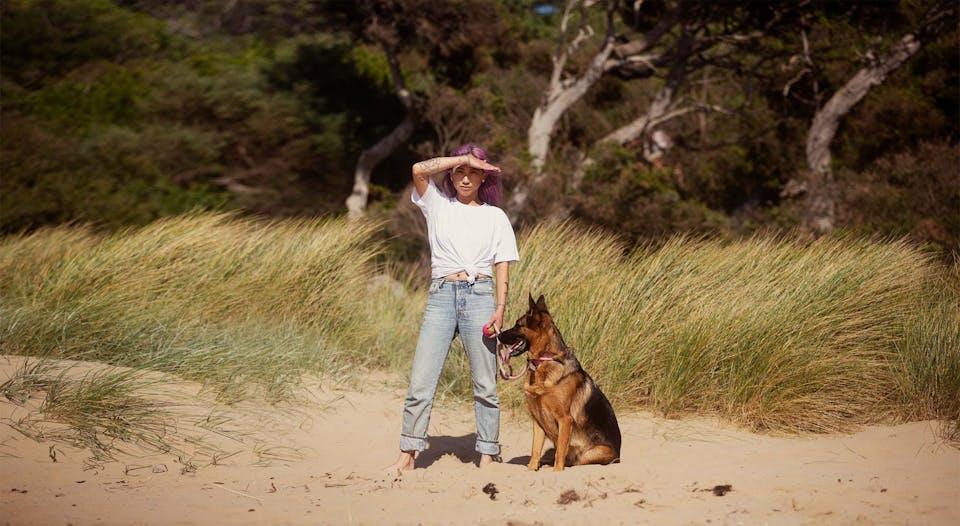 QLD
Earl Hill Conservation Park
This 3.38km loop trail near Cairns takes an average of just over an hour to complete and is considered to be relatively easy. Popular for hiking, you'll find quiet spots during the day that are perfect for a bit of solitude. Open year-round, dogs are more-than-welcome, and you'll find plenty of areas for off-leash fun.


Stevenson Street Trail
How does a walk through a eucalyptus forest sound? Start at the carpark on Table Top Drive, and you'll find Stevenson Street Trail, a hike that runs parallel to the southeast of the Picnic Point bridle trail.

The very end of the Stevenson Street Trail happens to be the beginning of the Road Reserve Trail, so if you and your pup still have the energy, you can try both.


Road Reserve Trail
The Road Reserve Trail follows the boundary between Toowoomba and the Lockyer Valley. The views of Table Top Mountain are stunning along this hike, and they are the only ones you can access, as they are not visible from anywhere else in Toowoomba.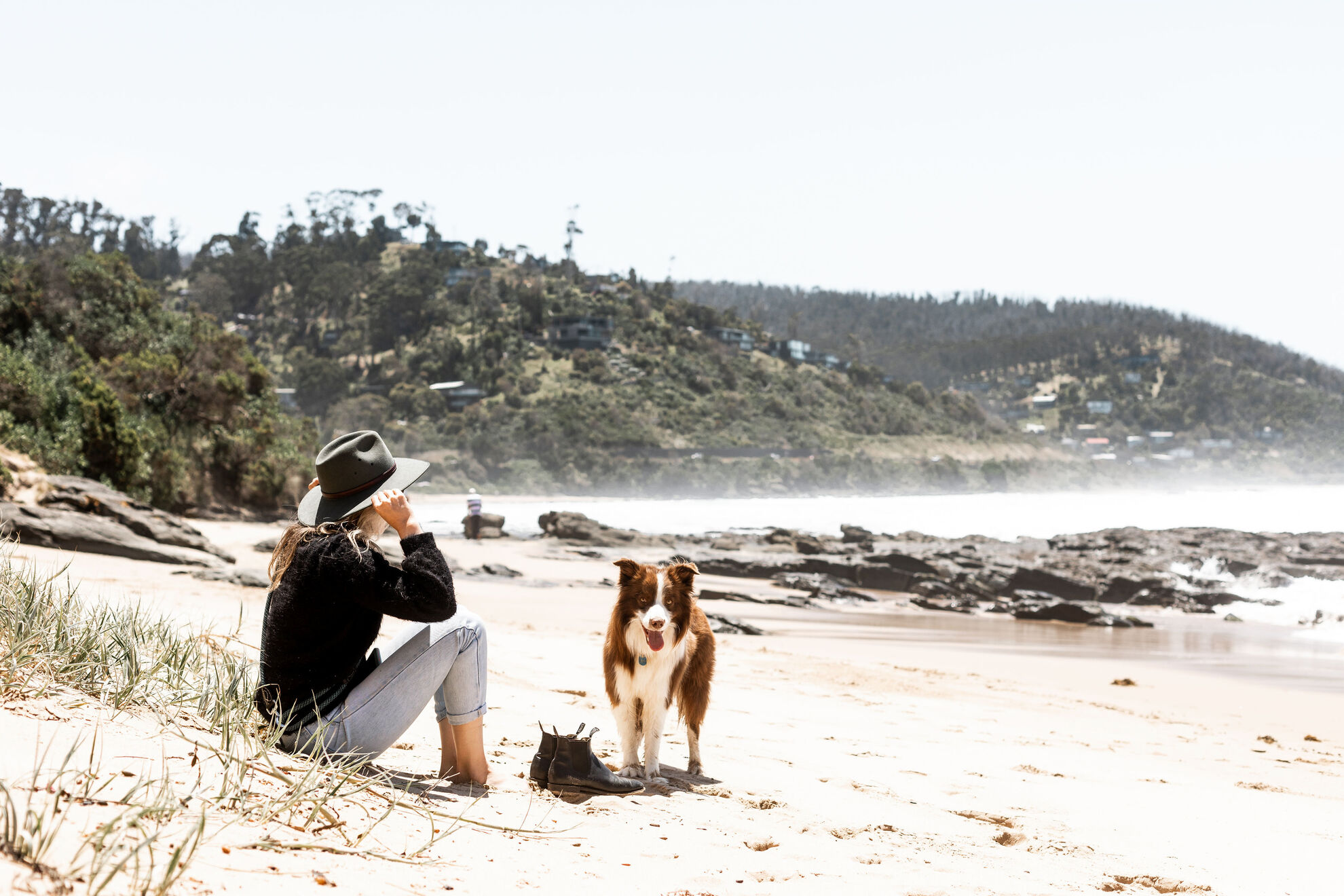 SA
Belair National Park
Belair National Park is our favourite Adelaide Hills location for dog-friendly mountain hikes as it offers several trail loops full of woodlands and lakes. You'll be able to find an option for every type of fitness level here.

Lorikeet loop is our favourite; a leafy trail with gum trees that attract plenty of, you guessed it, lorikeets! This trail is pram friendly with an adventure playground making it perfect for the whole family. If you want more of a challenge, Microcarpa Hike runs for 4km in a loop and is perfect for those with a lot of energy to burn.


Forth Creek Walk, Morialta Conservation Park
Part dirt track, part bitumen road, this 1.4km trail starts by the picnic area of the First Falls car park. Start or end with lunch, then hike to see three stunning waterfalls! Just be aware that your dog will only be allowed in the recreation area.


Kuipto Forest
For the most picturesque dog-friendly hiking, head to Kuipto Forest. The gigantic pine trees and gorgeous green landscape is accessible and dog-friendly, with several trails to explore at Kuitpo.

The popular Forest trail is a 2.8km loop, a hotspot for mountain bikes, horse riders, and more, so be sure to keep your dog close. That being said, a leash is only required in picnic areas or near other wildlife.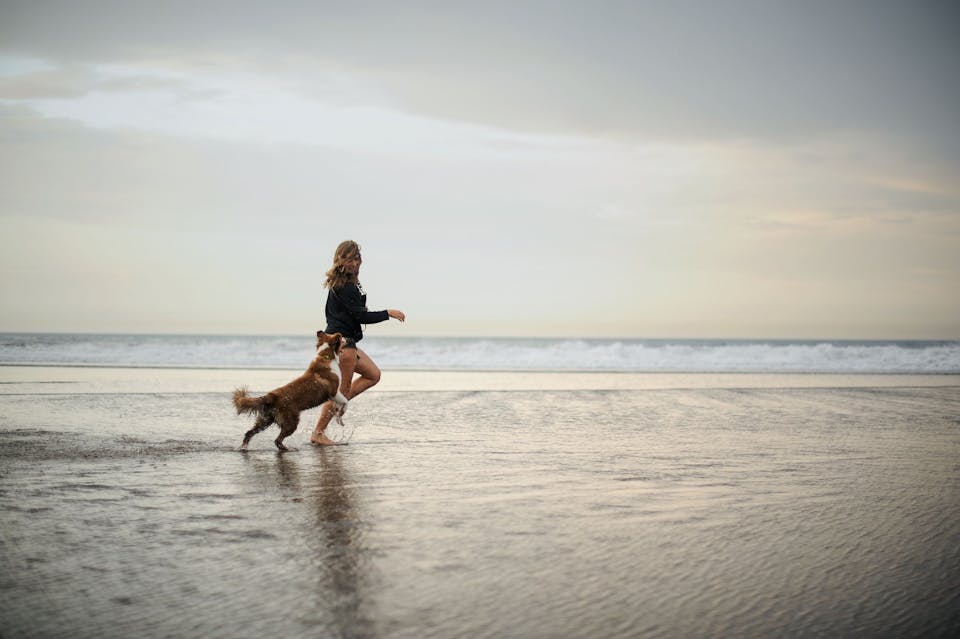 ACT
Yarralumla Walk
If you are up for a challenge, Yarralumla Walk is 5.2 km that is wide enough for group walks. The best part? It has plenty of dog-friendly cafes and a dedicated dog park along the way.

We love dog-friendly walking trails with amenities built for dogs, and this walk has them in spades. Explore the Westbourne Woods and Lake Burley Griffin which is the perfect spot for a swim.


Watson Walk
When it comes to a walk with plenty of off-leash spots, Watson Walk takes the cake. This short 2.5 km track is often very quiet, but the best part? There are few distractions for pups. If you are looking to train your dog to walk off-lead, this is the place to try it.

Explore Watson and check out the local shops, which are loaded with pet-friendly cafes to stop into for a snack.
WA
The Valley Loop Trail, Lesmurdie
A secluded trail in the Lesmurdie area for a fun hike is the Valley Loop Trail which offers an amazing vantage point for the Lesmurdie Falls. You'll see wildflowers along the way and can stop in the picnic area at the bottom of the falls for lunch with a view.


Whistlepipe Gully, Kalamunda
This reasonably easy walk can be found within the Mundy Regional Park. You'll hike along the waters of its namesake gully, winding through the forest while watching the sets of rapids.

Right in the middle of residential suburbs, you'll want to head there on a weekday if you are after a quiet walk, as weekends can get very busy here.


Keep your dog fit, trim, and ready for plenty of hiking
Hiking with your dog can be a lot of fun, and a great way to ensure they get enough exercise. However, this kind of physical activity requires a well-matched, nutritional diet to give your dog the energy they need.

We recommend reading our health and fitness article on how to keep an active dog in shape. With the tips in the article and the proper diet, your best friend will be healthy, happy and ready to explore by your side.