Top 15 Dog-Friendly Beaches in NSW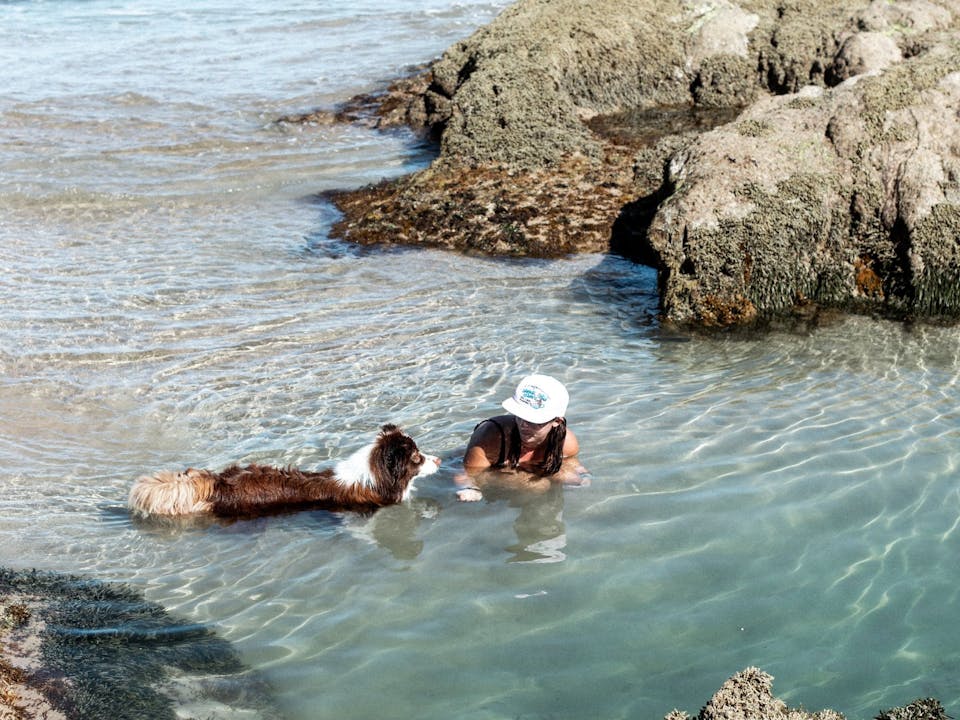 New South Wales features one of the world's great coastlines. With endless variety and so much to explore, it's a dog-walker's paradise with splashing opportunities aplenty. One of the great things about this gorgeous and varied state is the many opportunities you'll have for taking your dog for a frolic along one of the many world-famous coastlines. There are many justifiably popular destinations along NSW's Central and South Coasts, as well as some hidden gems.

We're going to give you the inside story so you and your companion have heaps of dog-friendly beaches in NSW to choose from. Let's get started!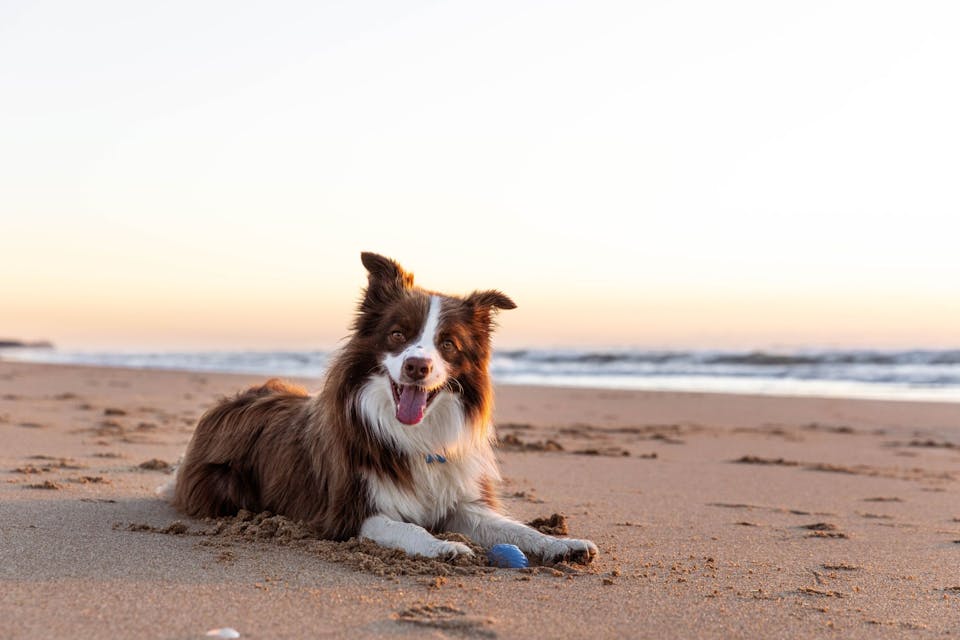 Dog-Friendly Beaches in Northern NSW
Byron Bay – Belongil Beach
When checking out dog-friendly beaches on the north coast of NSW, Byron's obviously top of many people's list. Smack bang in the middle of Byron Bay you'll find Belongil Beach, which runs for around 2.5km in an unbroken line. While many of the tourists in Byron head straight down to Main Beach, we recommend this one instead – you'll both have more room to cavort, as it's more of a sleepy space than its close neighbour. Your dog will enjoy paddling beside you as you run along the sand, but if you decide to join them in the water, make sure you do it at the south end where the beach is patrolled and the waters are calmer.
More info
:
https://byronbay.com/
Directions
:
Byron Bay NSW 2481
Coffs Harbour – Boambee Beach
When you hit this beach, you'll have company. Every man and his dog (so to speak) will be making their way along this justifiably well-known strip of sand, and for good reason. The shallow, calm waters are perfect for canine adventures, especially for smaller dogs. And if you're bringing kids on this doggie adventure, they'll love having a BBQ picnic while you and your dog do some more splashing. As you and your dog hightail it along the beach, you'll have to be a bit mindful of the huge variety of activities taking place here – but the vibe is pleasingly laid-back.
More info
:
https://www.coffscoast.com.au/
Directions
:
Sawtell Road/First Avenue Sawtell NSW 2452
Port Macquarie – LIghthouse Beach
If space is your doggo's sole desire, have we got the beach for you. Lighthouse Beach, named for the nearby Tacking Point Lighthouse, stretches for almost 10km … so even if your dog's got all the energy in the world, the endless expanses of flat sandy goodness will have them pooped eventually.
Remember, only part of this glorious part of the world is off-lead. To experience that level of freedom together, your best bet is to head to Watonga Rocks and keep going south from there. At that point of the beach, the leads come off and the real fun begins. On a given day, you'll find plenty of canine companions with the same idea … so don't miss the chance to socialise!
If you're tempted to have a swim yourself, the beach is patrolled only in school holidays at the northern end. And as a bonus, if you and the doggie make it to the viewing platform near the lighthouse, you'll be treated to a sight that you won't believe.
More info
:
https://portmacquarieinfo.com.au/
Directions
:
Port Macquarie NSW 2444
Tuncurry – Nine Mile Beach
Right near the seaside town of Tuncurry lies this little gem, easily one of the loveliest dog-friendly beaches in northern NSW. And for those whose taste in beaches reflect their love of dogs, Nine Mile Beach has a great drawcard – Tuncurry Rockpool, which your dog will no doubt love paddling around enthusiastically while you observe the marine mini-wildlife.
If you're really focused on giving your dog the best possible experience, make sure you pay attention to the zoning on this beach. North of Beach St, you can go off-lead to your heart's content. Anywhere South of the beach access track, you'll have to make sure you're going off-lead at the right time. (There are signs specifying the specific hours.)
If you're doing a family canine adventure, there's yet another great point. The BBQ and picnic facilities are outstanding, and there's a playground as well for amusing the little ones as your dog runs around manically on the nearby beach.
More info
:
https://www.visitnsw.com/
Directions
:
Tuncurry NSW 2428
Smiths Lake – Cellito Beach
Accessible from a dirt road, this clean, hospitable beach is a great place for catching some dog/human time. There's a novel beginning, where you and the pooch will daintily clatter across around 400 metres of wooden boardwalk to reach the sand beyond. You can both run down it separately too, because it's off-lead, all the time. What more could you ask for?
And what sand it is, too – clean and fine, with abundant rockpools to fish around in if the mood takes either of you. And it's off-leash here all the time, so your friend will have plenty of company and more space than they know what to do with!
One thing to remember – while this is great for running alongside, there are some serious rips here and the beach is unpatrolled. So even if you feel the urge, you and your dog should stay landlubbers for the day.
More info
:
https://www.visitnsw.com/
Directions
:
Lot 7167 Sandbar Rd, Sandbar NSW 2428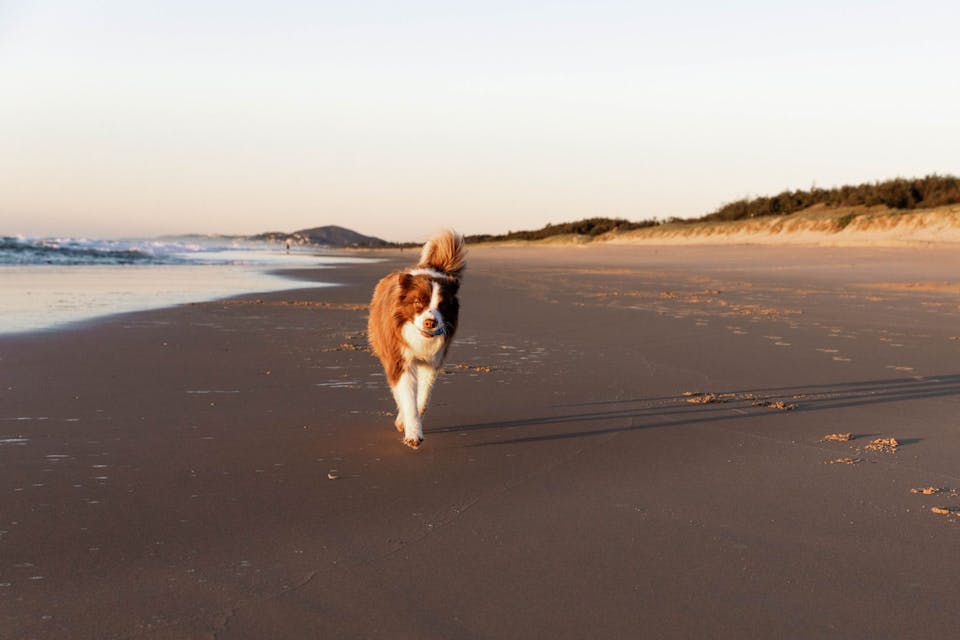 Dog-Friendly Beaches in Central Coast NSW
Ettalong Beach
Is this the dog- and family-friendly beach to rule them all? It may well be. This wide, white, calm beach just seems custom-made for lazy (or energetic) afternoons jogging alongside your best furry friend, just the two of you in a state of beach-related bliss.
The shallow waters of Ettalong aren't optimal for surfing, but they're great for just about everything else. As the beach gently curves round and you're happily watching your ecstatic dog weaving back and forth on the sand beside you, you're entitled to ask: Does it get any better?
And if you and your doggo are up for a memorable adventure (on-lead this time), why not consider heading to the Booker Bay Public Wharf, where you can soak up the atmosphere and enjoy the boardwalk vibe.
More info
:
https://www.visitnsw.com/
Directions
:
New South Wales 2257
Killcare Beach
Bordering lush vegetation, Killcare Beach is a crescent-shaped expanse of sand that's regularly stirred up by the teams of people and dogs adventuring, paddling, and just generally cavorting, here.
And if one beach isn't enough, there are plenty of other off-lead dog beaches in this area. Why not take the short walk to the tiny Tallow Beach, where you can repeat the whole experience in 'quiet mode' together. Why not take full advantage of an incredibly bountiful seaside area, after all?
More info
:
https://www.lovecentralcoast.com/
Directions
:
Killcare Beach, New South Wales 2257
Budgewoi – Lakes Beach
The important thing to know is this – about half a kilometre north from the Lakes Beach Surf Club, you'll find an off-lead area for your dog to enjoy 24/7. This isn't a secret, secluded place by any means mind you – and that's often just how your dog will like it. There are plenty of dogs around, so your friend will have all the company they desire when exploring the picturesque terrain.
More info
:
https://www.lovecentralcoast.com/
Directions
:
Lakes Beach, Budgewoi NSW 2262
Wamberal Beach
Here's another popular spot that really rewards your time. This is one of the Central Coast's most popular beach destinations – and they seem to have created it with both humans and canines in mind, too. Very thoughtful!
When you arrive, it makes sense to head straight to where the action is. Between Surfers Road and Pacific Street is where the fun happens for the four-legged among us, because there you'll find a free area where your dog can enjoy some serious splashing.
More info
:
https://www.icentralcoast.com/
Directions
:
Wamberal Beach, New South Wales 2260
Copacabana Beach
The Copacabana, of course, was a legendary club in New York in the 1950s and 60s glory days. But don't forget it's a triumphant Central Coast beach as well, where people – and their animals – can revel in an unforgettable natural setting.
Remember, too, that only some of this long beach is dedicated to offering lead-free freedom. That's the south end (running down to Macmasters Beach until Gerda Road), where you'll have around 400 metres of freedom for you both to enjoy.
And if you're simply too tired to join your dog in more hyperactively joyous circles in the sand, we understand … and we have some good news. That off-leash area's unforgettably picturesque, so you'll have the chance to chill and throw the ball for some much-needed 'fetch' while you're still sitting in the sand and gazing into the distance.
More info
:
https://www.lovecentralcoast.com/
Directions
:
Copacabana NSW 2251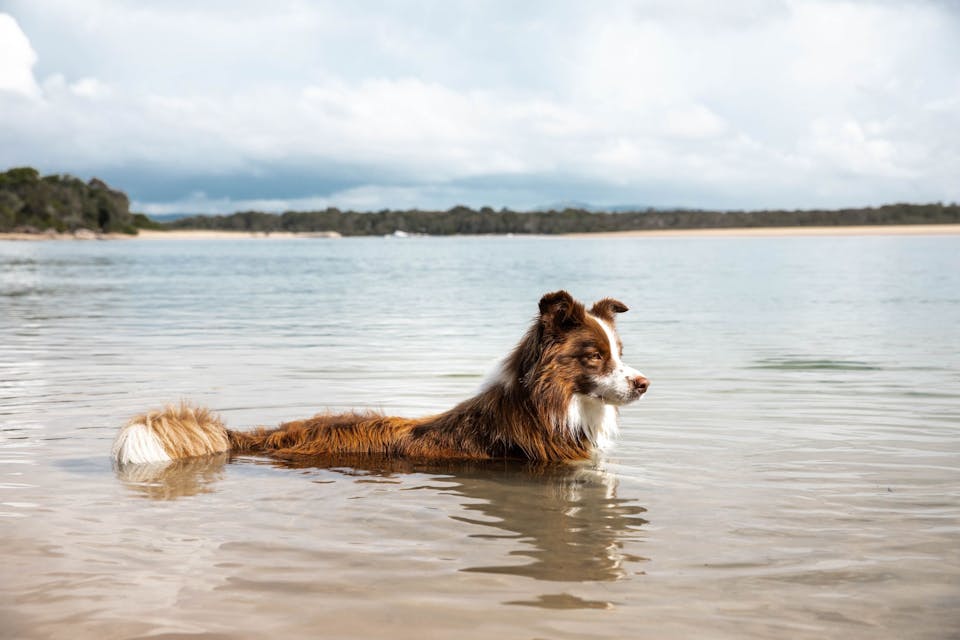 Dog-Friendly Beaches in South Coast NSW
Wollongong – Little Austinmer Beach
Wollongong may be Sydney's smaller neighbour, but it doesn't lack stunning beaches which will make your day. Often, though, it's the less well-travelled spots that are more interesting to visit with your dog, because they'll give you a haven away from the crowds to enjoy some bonding time with your pet.
One of these is the cutely named Little Austinmer, which (unlike some other dog-friendly beaches on NSW's south coast) is a little bit secluded but well worth the effort. It's definitely not a swimming beach – the water's unpatrolled and somewhat unpredictable, so stay on the sand. But there's heaps of interesting things for your dog to explore throughout its lengths, with lots of rocks and little reefs to scamper over.
More info
:
https://beachsafe.org.au/
Directions
:
2 Little Austinmer Ln, Austinmer NSW 2515
Culburra Beach – Berrys Bay
Of all the attention-seeking dog-friendly beaches on the NSW south coast, here's a wide, luxuriously large beach that will immerse you and your dog in seemingly endless sunny days together. From 4 to 8pm every day in Spring and Summer, and from 3pm to 9am in Autumn and Winter, you'll both be able to shed your cares and immerse yourselves in natural beauty (hopefully assisted by your favourite type of weather).
And when all that running, fetching, circling, paddling, and resting has worn you both out, why not slip on the lead and take one of two scenic walk options – Penguin Head Lookout to the South, or Crookhaven Lighthouse to the north? As you drink in all this rugged beauty, you can be content knowing that you're also tiring your dog out for a night of deep, deep sleep.
More info
:
https://www.visitnsw.com/
Directions
:
New South Wales 2540
Cormorant Beach – Bawley Point
Now, let's go small-scale. (Remember, sometimes you both just want more compact terrain!) This short beach is great for a dog-focused romp, as it's lead-free all the time.
And what's better than one lead-free beach? Two lead-free beaches, of course! So, if you're both really feeling outgoing, why not wait for low tide, then head around to the adjacent Bawley Beach, taking you past Bawley Point and also offering off-lead adventures all the time. Your dog will be feeling more spoiled than ever!
More info
:
https://www.visitnsw.com/
Directions
:
Bawley Point NSW 2539
Surfside Beach
Here's a long, calm beach where you can both partake in stress-free paddling. There's not much in the way of current here, so wading together is a great way to get some bonding time in. Your dog can be lead-free for a major chunk of this one, too – from the headland at Pinnacle Point headland all the way to the intersection at Mundarra Way.
Calmness is the key here, so this is a popular spot with families aiming to get a bit of peace and quiet in nature. But there'll be plenty of dogs with slightly more energetic plans, too, so head down, scamper across the sand, check out the rockpools together, then head into that shallow, calm water. Rated as one of the safest beaches around, there's plenty for you both to love here.
More info
:
https://beachsafe.org.au/
Directions
:
Surfside NSW 2536
Callala Beach Bay
Here's one of those tropical delights that seems like it's just stepped out of a postcard. The azure blue waters and snow-white sands of Callala Beach Bay will treat your senses while your dog follows more urgent pursuits (like fetching, so make sure you bring a ball along to this gem!).
One thing to remember here is that the off-lead times are a little bit tricky. The main thing you have to remember is that most of Callala Beach Bay is off-lead from 3pm to 10am from 1 May to 30 September, and from 4pm to 8am for the rest of the year.
So, what to do in those late morning hours? Why not consider an on-lead walk around Bicentennial Park, where you'll find plenty of dogs and owners doing the same – as well as plenty of bins and dog bag dispensers to make your job easy.
More info
:
https://www.visitnsw.com/
Directions
:
New South Wales 2540
To keep your dog energised all day at all those amazing beaches, remember to bring food that will give them all the energy they need for extended adventures. That's what the
Eukanuba dog food range
does brilliantly. Offering a complete nutritional balance for your eager and active beachside companion, it's an essential ingredient for your day at the beach together.
With such a stunning collection of the best dog-friendly beaches in NSW, the coast of this fascinating state is one of the prime locations to experience a slice of paradise with your dog.
nutrition for active dogs