The Best Dog-Friendly Beaches In Auckland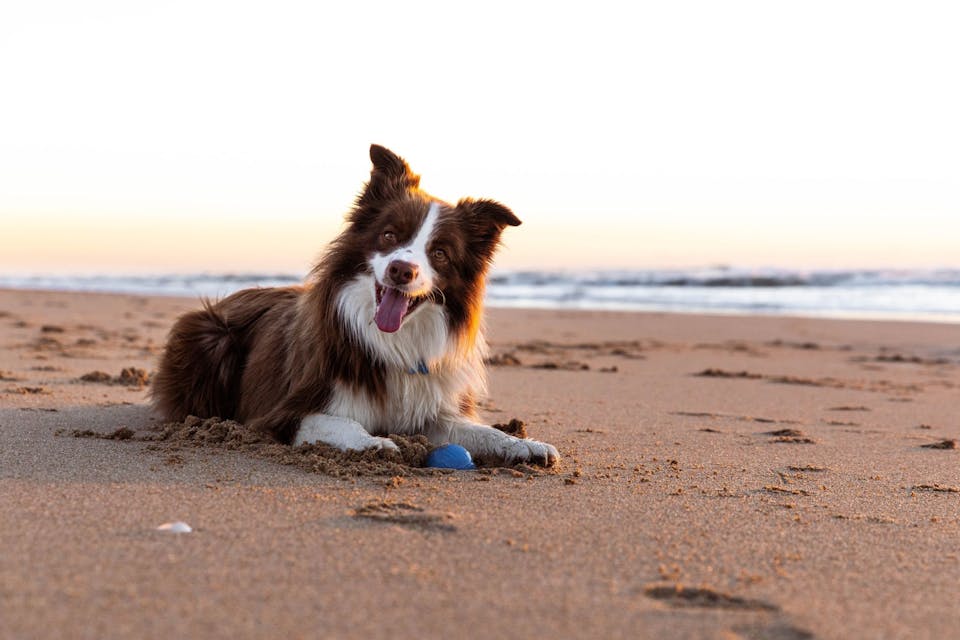 As one of the world's most beautiful cities, Auckland is unusually blessed with options for dog owners, including some of the most exceptional dog-friendly beaches. You might say it's a dog owner's paradise!
Choosing just one beach that would be ideal for dogs and their owners is a virtually impossible task – so, we've chosen 19 instead! To make sure all residents are fully covered, we've scouted around Auckland's north, south, east, and central areas of Auckland to offer a bountiful selection of beaches to visit with your dog.
And before you dive in, remember how important it is to come prepared when visiting the beach with your dog. As well as bringing all the right gear (towels, shade, etc.) as well as dog food, to ensure your puppy is getting a nutritious meal throughout the day to keep their energy levels lifted. Eukanuba has formulated a
complete and balanced puppy food range
with essential vitamins and minerals your puppy needs.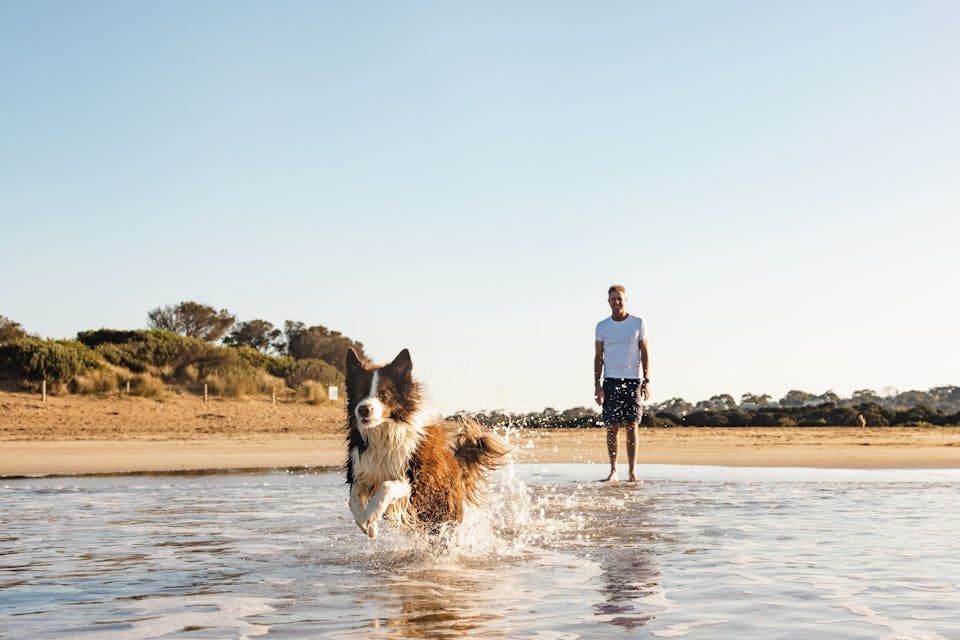 Best Dog Beaches In The North
North of Auckland, you'll find some of the most appealing dog-friendly beaches, in varying sizes. There's plenty for you both to explore, but we've listed a few of our favourites below:


St Leonards Beach
Situated on Auckland's North Shore, St Leonards Beach is a terrific dog-friendly choice. As a long beach (almost 2km), visiting at low tide will provide you and your dog with lots of space to roam. With rockpools interspersed with the sand, you'll both have plenty to look at.

St Leonard's Beach is off-leash at all times.


Takapuna Beach
Takapuna is a gorgeous beach, situated only 10 minutes from downtown Auckland. It has it all, including a laid-back vibe, untold variety of food choices ... and most importantly, that serene view across the pure white sand to Rangitoto Island beyond.

In the summer, this lovely beach shows its dog-friendly face, as you're allowed to take your dog off the leash between 6pm and 10am each day. This gives you and your dog the perfect opportunity to dive into the warm weather.


Churchill Reserve Beach (Rothesay Bay)
Rothesay Bay is one of the smaller beaches in the Auckland area, yet it's beautiful and not as busy as many others. The beach is shallow and sandy, making it perfect for dogs with an appetite for activity.

At any time of day, it's permitted to have your dogs off-leash here between Rothesay Bay and neighbouring Murrays Bay. It definitely takes a lot of hiking to get here, but it's worth it!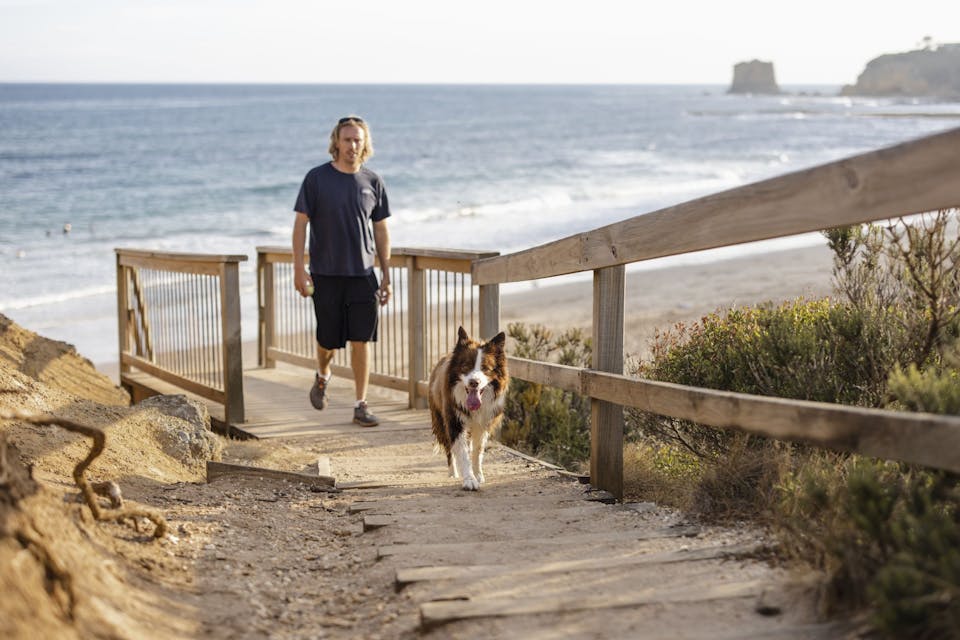 Omaha Beach
One of the nicest beaches near Auckland's CBD, with excellent sand and a gentle slant that's ideal for swimming, strolling, and picnics. Even during the summer, there's plenty of space on the beach for all who make the journey.

There's something for everyone, with a bird refuge at the northern end (ensure that your dog is not disturbing any wildlife!) and a fantastic golf course on the estuary side. It's convenient to go for a daytrip, because there's a dairy and a cafe nearby.

From 1 December to 1 March, dogs are prohibited from the beach between 10am and 5pm. At all other times of the day and year, dogs are allowed on the beach as long as they're kept under control.


Orewa Beach
Orewa Beach is a large space, ideal for extended walks with your dog. This expansive 3km beach is just 15 minutes north of Auckland's CBD. Owners can extend the walk by continuing around the Orewa Estuary, which permits off-leash roaming. In summer, dog regulations apply from the northern headland to the southern end of the Estuary Bridge.

From 5pm to 10am during summer and winter, the beach and park are off-leash at all times. However, your dog must be on a leash near the playground.


Kendall Bay Beach
A beautiful, isolated sandy beach in the inner north, Kendall Bay is perfect for swimming with young children. There's plenty of room for dogs at the off-leash exercise area at the beach, which allows you to exercise your dog at all hours.


Cheltenham Beach
This is quite a narrow sandy beach in the inner north, with a beautiful view to Rangitoto Island.

Dogs can be off-leash from 5pm to 10am in summer, and are prohibited the rest of the time. In winter, the dogs are allowed off-leash from 2pm to 10am, and on-leash from 10am to 2pm.
Best Dog Beaches In The West
Along the bay west of Auckland, you'll find several beaches dotted along the jagged coastline, each with its unique character. Keep reading to find out some of our favourites!


Kauri Point Domain & Fitzpatricks Bay Beach
This is a great dog-friendly reserve and beach in the inner west, perfect for all-day fun. It's a very short walk from the car park to Fitzpatricks Bay Beach, but the park will allow your dog to have a good stretch. There are some bush tracks to enjoy, and beautiful sunsets when the time is right.

The park is off-leash at all times.


Muriwai Beach
Muriwai accommodates dog owners well, with a leash-free exercise area situated within the park. Dogs are also allowed to roam off the lead at the beach in summer, between 7pm and 9am. The beach's visual strong points are coupled with many adjacent walking tracks – so you'll never be at a loose end when you're at Muriwai.


Point Chevalier Beach
Point Chevalier Beach isn't renowned for sunbathing or swimming – but we can guarantee it will be one of your dog's favourite places to visit. With lots of space for running when the tide's low, dogs will love to gallop along this beach when they're feeling energetic.

The rules at Point Chevalier Beach are pretty complicated, so put your thinking caps on…

In summer (between Saturday of Labour Weekend and Easter Monday), dogs are allowed under control off-leash when swimming or walking in the water from 7pm–9am. In areas not covered by water, they have to be kept under control on a leash from 9am to 7pm. Dogs are prohibited on beaches from 9am to 7pm and from safe swimming areas or lanes.

In winter (from Tuesday after Easter Monday until Friday before Labour Weekend), dogs are allowed under control off-leash when swimming or walking in the water (excluding safe swimming areas or lanes where dogs are prohibited). They're allowed under control off-leash on areas not covered by water from 4pm–10am.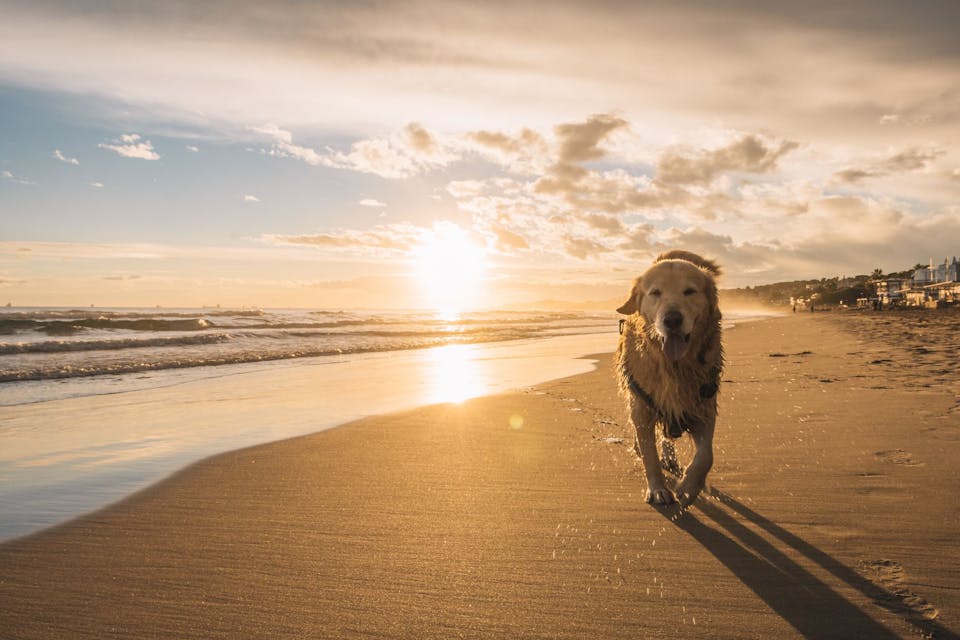 Best Dog Beaches In The South
You'll find an enviable smorgasbord of beaches in Auckland's south, which are both spectacular and accessible. Keep reading to find out a few of our facourites:


Kakamatua Inlet
Kakamatua Inlet is widely known as one of Auckland's greatest dog-friendly beaches. If you're seeking a short break from the city with your pup, this is the place to be. Under an hour from Auckland's CBD, this beach is a real find. There's a big section where your dog can roam off-leash, so an enjoyable time is guaranteed!

While dogs are permitted at the beach, there's a big difference between high and low tide -- and the water can rise fast, so be careful. If you attend with your dog when the tide's low, you'll be able to play on a huge flat sandy area that they'll love. With shallow water for a long way, your dog will be able to paddle to their heart's content. There's water onsite too, with a nearby stream for refreshment.


Onehunga Bay
Onehunga Bay Reserve is a tidal estuary, which boasts its own beach. There's a permanent off-leash park in the area near the lagoon – except for the playground, where you must keep your dog secured. Just 20 minutes from Auckland's CBD, the reserve includes access to drinking water for dogs.

Onehunga Bay gives your dog the opportunity to be off-leash while still having access to an excellent swimming location. All visitors must stick to the permitted swimming areas.


Karioitahi Beach
Visually, this beach is something special. With black sands, gorgeous sunsets, and towering sandstone cliffs, Karioitahi Beach offers a gorgeous visual experience to all visitors.

Restrictions on dog walking At Karioitahi Beach, dogs are welcome to exercise off-leash at all times. During the winter, the beach areas are off-leash at all times; however, during the summer, it's restricted to off-leash between 5pm and 10am. Dogs are forbidden the rest of the day.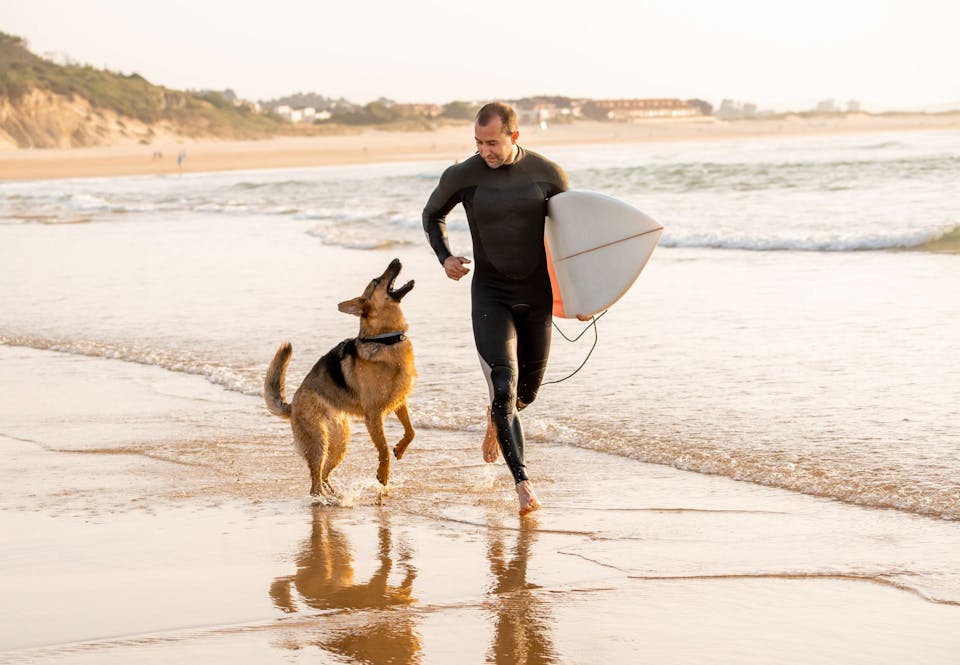 Best Dog Beaches In The East
Auckland's east is a treasure trove of spectacular beaches, many of which are dog-friendly as well. Let's look a little closer.


Point England Reserve (Waiotaiki Reserve)
This unique beach offers something different than the usual seaside environment, with the scrubby vegetation making a visually interesting contrast with the whiter sands running alongside it.

On the foreshore, reserve, and pedestrian portions of Point England Reserve, dogs can be off-leash at all times. (Summer hours are 5pm–10am, while winter hours are 4pm–10am.) Dogs aren't allowed between 10am and 5pm in summer, but are allowed on a leash between 10am and 4pm in winter.


Eastern Beach
Just next to central Auckland, Eastern Beach is known for its palm trees, calm blue waters, and white sand. If you're imagining the ideal photogenic beach, this is it!

Dogs can be off-leash at all times in the Northern Beach zones. They can be off-leash at all times during the winter in the Southern Beach areas, but they are forbidden from 10am to 5pm. during the summer and must be on-leash between 10am and 5pm.


Cockle Bay Beach
This is a nice straight beach in the inner east, offering plenty of space for exercising you and your dog. It's important to remember, though, that there are sharp shells within the water – so stick to the same and tread carefully.

Dogs are allowed off-leash at Cockle Bay Beach at all times during winter, and from 5pm–10am during the summer. (Outside those hours, though they're forbidden on the beach – so make sure you time everything right.)


Mission Bay Beach
Mission Bay Beach (just east of central Auckland) is great for dogs, and there's plenty of space for them to run around. It's a sanctuary for water lovers, too. It's no surprise that Mission Bay is a popular destination for locals and visitors alike, built around the gorgeous, pohutukawa-lined beach and separated from the core city by a short and scenic drive. There's around 600m of lovely beach for you both to enjoy, so go for it!


Mataitai Bay Beach
Mātaitai Bay Beach is a beach in Auckland Region, situated nearby to Mataitai Pa, and close to Koherurahi Pa. This is a calm, half-moon shaped beach which has safe, shallow water perfect for wading around with your dog. As far as the sights go, there are green granite boulders stretching out along the coast which make for a beautiful backdrop.


Mellons Bay
This safe family beach is great for dogs, big and small. Dogs are allowed off-leash in the park – but be aware that throughout the summer, the off-leash area is restricted to the hours between 10am and 5pm.

Whether you're looking to visit the beach for a long time or a short time, the right nutritional balance will make all the difference to your dog's energy levels. At Eukanuba, we've formulated a dog food range that provides active dogs with all the energy they'll need to keep powering along the beach.
NUTRITION FOR ACTIVE DOGS