The Best Dog-Friendly Parks, Beaches & Walks in Wellington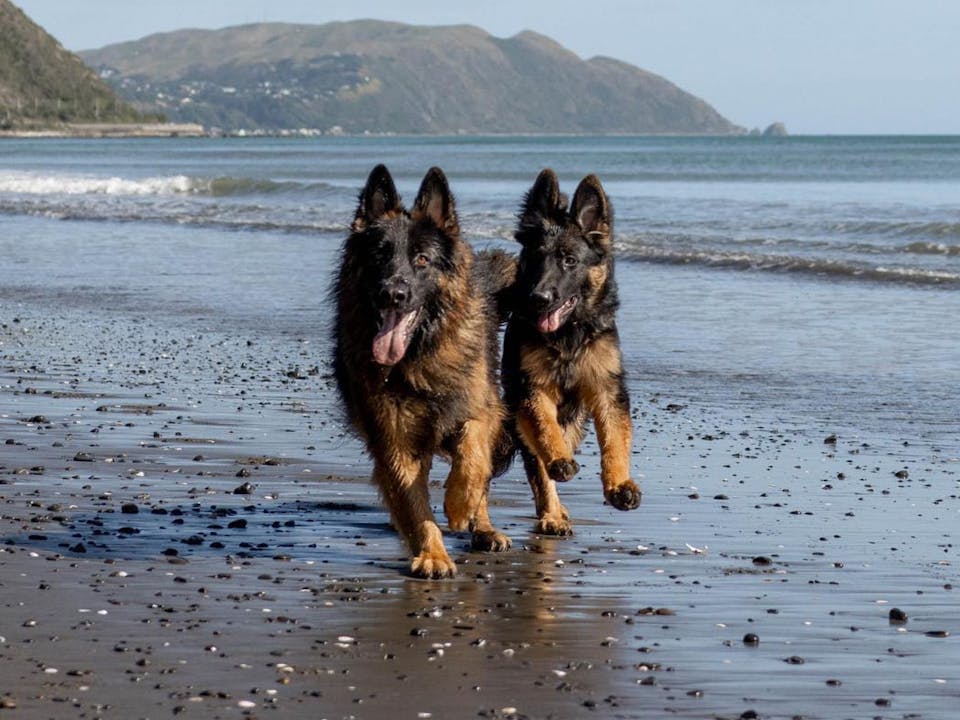 New Zealand's Wellington area is home to bountiful – and accessible! – natural wonders, giving you and your dog a plethora of opportunities to explore every corner of this magnificent countryside.

Wellington boasts not only a series of spectacular beaches where you're allowed to take your dog off-lead, but also a huge range of trails and parks where you're allowed to do the same. Given New Zealand's fantastically diverse geography, each one of these is a completely different experience that will provide a unique set of challenges and attractions for both of you. Bringing your dog to Wellington is one of the best ways to fully experience the jaw-dropping nature of this part of the world.

There are so many places you and your dog can explore in Wellington that it's honestly hard to narrow these down to just a few. But treat this list as a way of dipping your toe (and paw) in the water, and you'll go a long way towards understanding the attraction of this part of the world for every intrepid dog.

Let's start with one of the elements Wellington's so widely known for – the beaches, many of which are perfect for traipsing along the sand (sometimes of various colours!) together.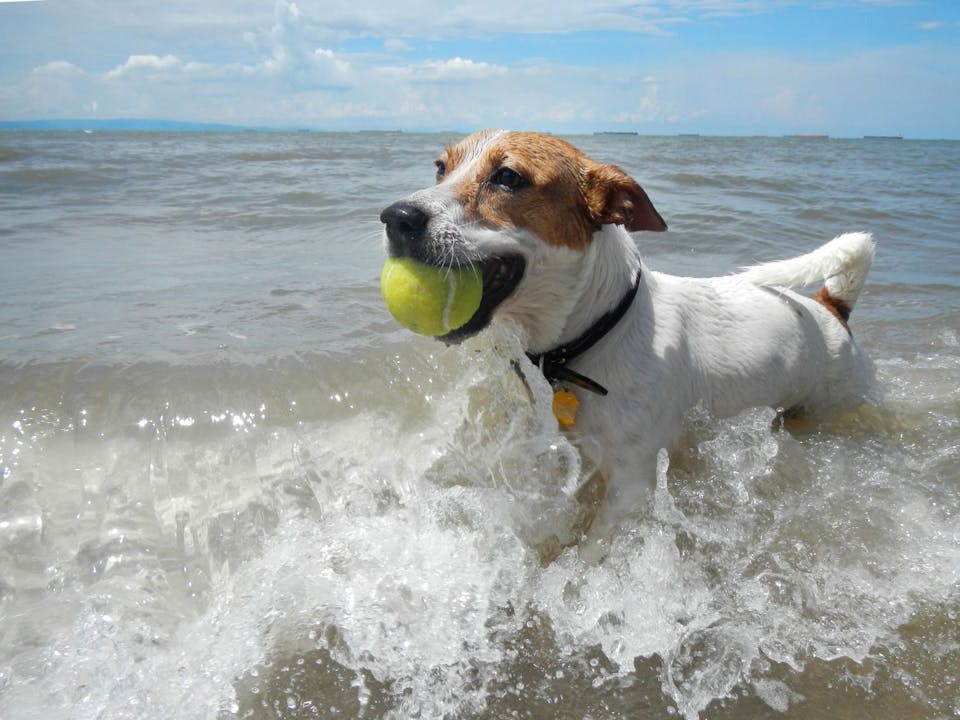 Dog-Friendly Beaches In Wellington
As you might expect, Wellington's pretty lucky when it comes to dog beaches. Here are some of our choices.
Houghton Bay Beach
One of Wellington's more understated beaches, this rocky, curved bay is the less glamorous cousin of nearby Princess Bay. But don't let that put you off when you've got your dog with you, because the amazing textures of the rocks abutting Houghton Bay Beach's water will keep you and your dog busy for hours.
The dog exercise area here is basically the entire beach, so you'll have a free run (and possibly not too many others doing the same, given it's a bit less accessible). But don't let that stop you, because pottering round is exactly what Houghton Bay Beach is great for.
Just remember, though – while it's great to have a run together along that elegantly curved sand, the water itself can be quite dangerous for swimming (due to a pretty intense undertow). So keep your exercise land-bound, and you'll be fine. (A shallow splash from your dog is OK too, as long as they don't fully go in the water.)
More info
:
https://wellington.govt.nz/
Directions
:
61 The Esplanade, Houghton Bay, Wellington
Island Bay Beach
Situated in the middle of Taputeranga Marine Reserve, Island Bay lies right where the Southern Walkway and the City to the Sea each reach their conclusions. There's heaps of marine life here too, so be prepared for your dog to be startled by the occasional sea-dwelling creature! Make sure your dog is friendly in any new surprise meeting so as to not harm any sea life.
For dogs and their humans, the best advantage of Island Bay is its calm, predictable waters. Because it's safely sheltered from swells and rips, swimming together here is safe and fun. Just remember – no dogs are permitted anywhere east of the breakwater and in the dunes
If you're looking for an on-lead interlude after all that beach-based activity, Shorland Park's right near here, too!
More info
:
https://wellington.govt.nz/
Directions
:
252 The Esplanade, Island Bay, Wellington
Mākara Beach
You couldn't get further from the yellow, straight, flat stereotype of a beach here. The setting of Mākara Beach has to be seen to be believed (for a non-New Zealander, anyway). Dramatic hills covered with vegetation surround this stony beach, which sets the scene for many spectacular walks.
The beach itself is stony, but your dog won't mind a bit as they scramble around the interesting terrain off-lead (a rule which applies to the whole beach, which makes things simple). The water's only recommended for strong swimmers, so don't venture in there when you two are moseying around together here. The good news is, you'll have so much to take in that swimming will be the last thing on your mind!
More info
:
https://wellington.govt.nz/
Directions
:
Wellington
Worser Bay Beach
After all that ruggedness, here's a more traditionally 'beachy' beach for you both to enjoy. This expansive, sandy beach is blessed with spectacular harbour views – and the secret's definitely out. Throughout the year, particularly in the warmer months, chances are you'll both be joined by people and their dogs who've had exactly the same idea. So, make sure you're feeling social, because this beach is a great place to meet new dogs (and people, of course)!
There's great swimming here too, which partly explains why it's such a drawcard for families. Just remember that if you're visiting together in summer, there are off-lead rules to follow before letting your canine companion loose. It's off-lead from 1 December to 1 March from 7pm–10am, so it'll be an evening and early morning romp for you both if you choose to visit then. (Also, dogs aren't allowed on the beach at all outside these hours.)
From 2 March to 30 November, though, it's AOK to go lead-free 24/7.
More info
:
https://wellington.govt.nz/
Directions
:
Worser Bay, Wellington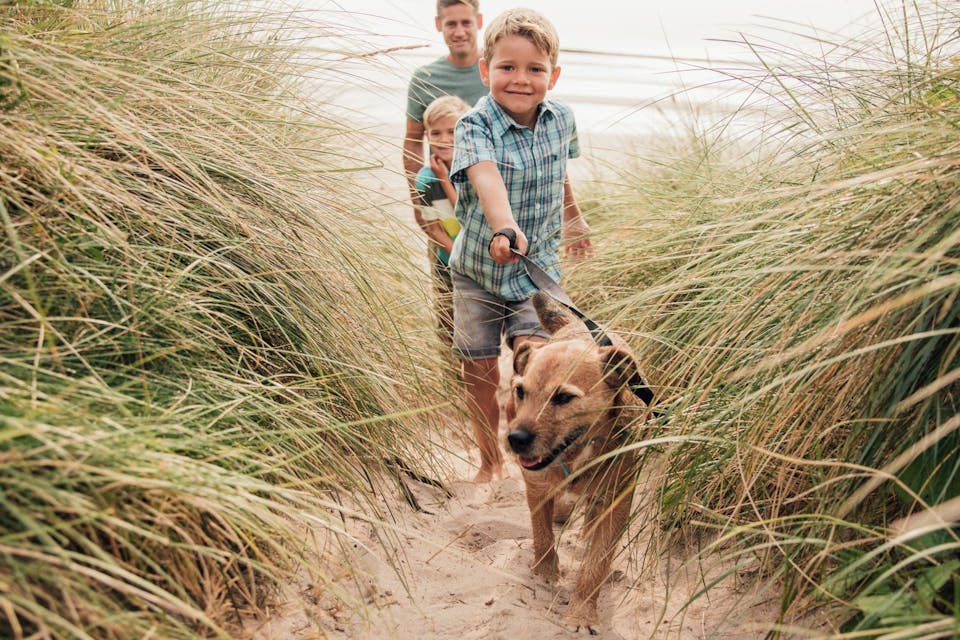 Dog-Friendly Parks In Wellington

Edward Wilson Park
I hope your dog's got those muscles in gear for this one. Here's an off-lead park which makes a virtue of its striking rises and dips, which your dog will be sure to enjoy as they burn down the slopes and labour up the hills … before doing it all again. And again. And again. Preferably with some newly met – and similarly active – friends. This, of course, has the huge benefit of wearing your dog out … which even though you love them dearly, may be quite a benefit when it starts to get dark.
Even though there's a big contingent of chunky, massively built, hill-conquering dogs here, you'll also find more than your fair share of tenacious little tackers with determination to burn. So, enjoy the hi-octane pursuits!
More info
:
https://wellington.govt.nz/
Directions
:
Churton Park, Wellington
Meekswood Reserve
A generous chunk of L-shaped land sandwiched between residential streets, Meekswood Reserve does one thing … and does it well. Here, there's a sort of de facto 'running track', formed by a large stand of trees in the middle of the park making a suitable object to run around in laps.
At the park's more heavily wooded southern end, your dog may enjoy venturing into some tree cover to find their inner wild dog … at least until it's time for some treats.
Directions
:
Johnsonville, Wellington
Odell Reserve
Here's a park with two major parts. The first, of course, is the dog exercise space (which, let's face it, is why we're here in the first place). This is a nice, green, dog socialising area with enough space for exuberant pets to hit their stride at top speed … and stay there for as long as they can handle it.
When the frenetic activity's done, it's time to take charge, put the lead on, and take your dog to the Oriental Bay Lookout via Old Porirua Road. This won't be a quick and simple experience for you both, as there are a few steep sections on the way … but when you reach your destination, the gorgeous views will make the Odyssey seem extremely worthwhile. You can even reward your faithful companion with a make-up session back at the exercise space if they've been good!
Directions
:
Khandallah, Wellington
Charles Plimmer Park
This park is actually part of a mountain – Mount Victoria, which overlooks the city of Wellington. Here, on the grassed lower slopes, you'll not only find rolling hills ideal for lead-free ambling, but also an easy walking track which links the two ends of the park. There are many lookouts along the way … and even if your dog's not as into the views as you are, they'll still appreciate the walk.
A post-exercise challenge for you both would be to ascend (on-lead) to the Mount Victoria Lookout, where you'll be rewarded by seeing the city laid out before you in all its glory.
Remember, it's important to make sure your puppy's lead-trained properly when you're visiting on-lead tracks, so they understand how to behave with you when you're walking with them. Also, socialising your dog's vital when they're likely to meet other dogs on a lead, because they'll be much more relaxed and in control. For more on these essentials, check out our articles on socialising your puppy and teaching them to walk on a lead.
More info
:
https://wellington.govt.nz/

Directions
:
Mount Victoria, Wellington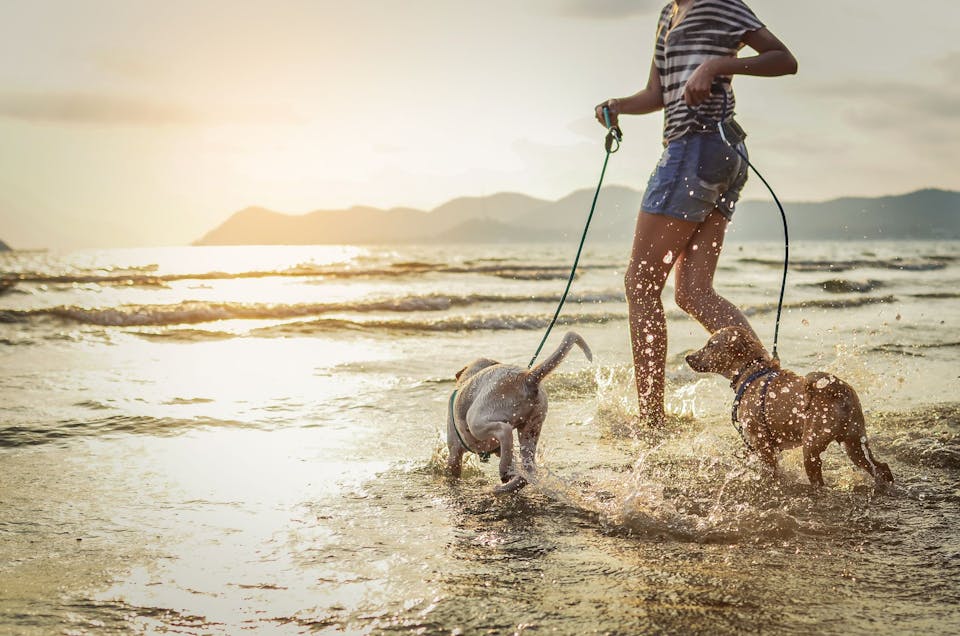 Dog-Friendly Walking Tracks in Wellington 
Some of the best dog walks in Wellington will take your breath away, as you'll both discover. This collection is a great beginning to some unforgettable shared experiences.
Tawatawa Reserve
Below the hills enclosing this dog-friendly haven, you'll find a large flat grassed area below the hills that serves as a stage for some all-day dog-related exuberance. You'll also find kids playing in the adjacent playground, so it's got quite the upbeat vibe.
It's all about the walks at this reserve, though. So, once you've managed to drag your friend away from some rough-and-tumble time with their new friends, get started together on one of the surrounding hills' on-lead walking tracks. The best choice is the loop track which begins at the nursery, giving you both a clear goal … without having to worry about how you'll get back to the car.
As we mentioned before, it's vital that your dog's been socialised and learned to walk on a lead before venturing onto on-lead tracks … so read our articles in the links on each one.
More info
:
https://wellington.govt.nz/

Directions
:
Murchison Street, Island Bay, Wellington
Northern Walkway (with Khandallah Park and Mt Kaukau)
After we've mentioned some more leisurely experiences, it's time to crank things up a little for you and your dog. This is a great place to begin for some dog-friendly walks in Wellington that are a little more challenging. For almost 15km, this walk traverses the outer Green Belt to Te Ahumairangi Hill, passing the slopes of Mount Kaukau on the way. At the conclusion of this challenging shared adventure, you'll reach the verdant landscape of Kelburn's Botanic Garden.
Of course, walking a 4-hour, 15km trek isn't possible with every dog breed – and that's another reason this track's a superlative choice. Instead of doggedly (sorry) getting through the entire thing together, you might prefer to do it stage by stage. There are natural resting points along the way, each with its unique view. Bring lots of treats, because you pooch will have earned them by the end! On the way, you'll both have seen everything from mountains to the harbour. It's a walk that will stay with both of you for a long, long time.
More info
:
https://wellington.govt.nz/

Directions
:
Crofton Downs, Wellington
Te Ara o Whareroa
For a two-hour adventure, you can't go past this beautiful on-lead walking trail, which winds along sand dunes all the way to Raumati. A significant step down in difficulty from the previous trail, this 5km challenge nevertheless features a wealth of surprising views. You'll both be sharing the path with families of bikes, so make sure you help your loyal companion stay on their side of the track to avoid collisions.
This is also one of the flattest tracks around, with only 20 metres between its highest and lowest point. For that reason, it's a perfect outing for dogs of all sizes, who'll enjoy the novel setting without feeling completely shattered by the end.
As we mentioned before, it's vital that your dog's been socialised and learned to walk on a lead before venturing onto on-lead tracks … so be sure to read our articles in the links on each one.
More info
:
https://www.wellingtonregionaltrails.com/
Directions
:
68 Poplar Avenue, Raumati South, Paraparaumu
Waikanae River Trail
Following the winding path of the Waikanae River, this open, expansive trail takes in a quite impressive variation of highs and lows, giving the calf muscles of dog and human alike a supreme workout while taking in the scenery (or smells, whichever applies). When you both reach the track's conclusion, you'll be treated to the rugged beauty of the Tararua Ranges.
The best part of this trail is that it allows off-lead adventuring. (There are several clearly marked dog-free areas along the way, though, so keep an eye on the signs to find out where your companion's not allowed to venture.) You'll find quite a large range of dog/human teams who've chosen to take on this perfectly paced 10km challenge, so be sure to give your dog enough time to properly sniff new arrivals and introduce themselves. After all, it's their walk as much as it is yours!
More info
:
https://www.wellingtonregionaltrails.com/

Directions
:
Wellington
Well, there you have it – a great starting point to get the most out of Wellington's peerless natural environment when you're on the trip of a lifetime with your dog.
nutrition for active dogs